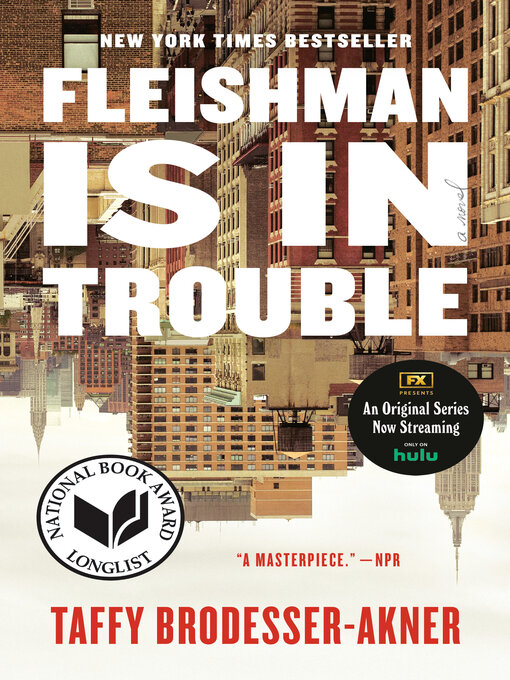 Fleishman is in trouble : a novel
Format:

Kindle Book

2019

2019

Adobe EPUB ebook

OverDrive Read

Availability:

Unavailable

0 of 43 copies
35 people on waitlist
Summary
Divorcing his hostile wife when he concludes he could find genuine happiness elsewhere, a doctor is astonished when his ex abruptly disappears, making him unable to move on without acknowledging painful truths about his marriage.

Published Reviews
Booklist Review:
"When Toby Fleishman's soon-to-be-ex-wife Rachel drops their two kids at his place a day early, it does more than interrupt his hyperactive, app-fueled sexual rebounding. It confirms what he's long known: that Rachel's demanding job makes her self-involved, at best, or she's just not interested in their family, at worst. When she fails to pick them up as scheduled, things quickly get desperate. At a certain point, readers will note that maybe Toby loves being mad at Rachel a little too much, and suspect that, perhaps, there's more to the story. The book's narrator, a wonderful character whose identity is best discovered on the page, empathically tells all reams of personal histories tangled by ambition, gender, family, class, and, especially, love. A New York Times journalist known for her incisive, entertaining profiles, Brodesser-Akner proves herself also a master of startlingly true invention in her enthralling, affirming debut of midlife, marital, and existential despair. It asks and answers if there's such a thing as fairness, in marriage or in life, and if the story of a marriage can ever be told from all sides or the outside. Shrewd and delectable, this would be a novel to savor, if it were possible to put down.--Annie Bostrom Copyright 2019 Booklist"
From Booklist, Copyright (c) American Library Association. Used with permission.
Publisher's Weekly Review:
"Brodesser-Akner's sharp and tender-hearted debut centers on hapless 41-year-old New York hepatologist Toby Fleishman, recently separated from his driven wife, Rachel, and alternately surprised and semidisgusted to find his dating apps "crawling with women who wanted him," who prove it by sending him all manner of lewd pictures. After an increasingly rocky 14-year marriage, Toby has asked Rachel, who owns a talent agency and makes a lot more money than he does, for a divorce, because she is always angry and pays little attention to their two preteen kids. But then, as Toby is juggling new girlfriends, dying patients, and unhappy children, Rachel disappears, leaving Toby to cope with logistics more complicated than he anticipated. The novel is narrated by Toby's old college friend Libby (a device that's occasionally awkward), a former magazine journalist now bored with life as a housewife in New Jersey. Though both she and the novel are largely entrenched on Toby's side, Libby does eventually provide a welcome glimpse into Rachel's point of view. While novels about Manhattan marriages and divorces are hardly a scarce commodity, the characters in this one are complex and well-drawn, and the author's incisive sense of humor and keen observations of Upper West Side life sustain the momentum. This is a sardonically cheerful novel that readers will adore. (June) © Copyright PWxyz, LLC. All rights reserved."
(c) Copyright PWxyz, LLC. All rights reserved
Additional Information