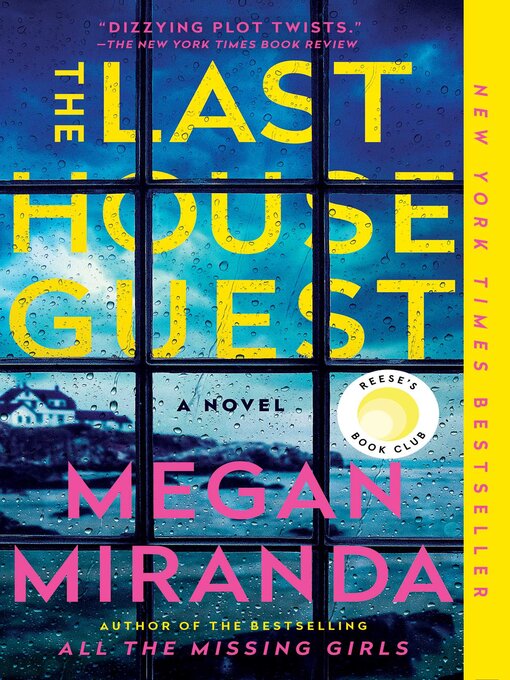 The last house guest
Format:

OverDrive Read

2019.

Adobe EPUB ebook

Kindle Book

Availability:

Unavailable

0 of 36 copies
210 people on waitlist
Summary
REESE'S BOOK CLUB x HELLO SUNSHINE AUGUST 2019 PICK!

THE INSTANT NEW YORK TIMES BESTSELLER

"Once again, Megan Miranda has crafted the perfect summer thriller. The Last House Guest is twisty and tense, with a pace that made my heart race. An edge-of-your-seat, up-all-night read." --Riley Sager, New York Times bestselling author of The Last Time I Lied

"Dizzying plot twists and multiple surprise endings are this author's stock in trade, but she warms them up by establishing the close friendship between Sadie Loman...and Avery Greer...And, oh boy, does she ever know how to write a twisty-turny ending (or two, or more)." --Marilyn Stasio, The New York Times Book Review

"No one can be trusted in the latest chilling thriller from master of suspense, Megan Miranda. The Last House Guest is a lightning-fast mystery, full of menace and unexpected twists and turns that will have readers on the edge of their seats. A riveting read!" --Mary Kubica, New York Times bestselling author of The Good Girl

Littleport, Maine, has always felt like two separate towns: an ideal vacation enclave for the wealthy, whose summer homes line the coastline; and a simple harbor community for the year-round residents whose livelihoods rely on service to the visitors.

Typically, fierce friendships never develop between a local and a summer girl--but that's just what happens with visitor Sadie Loman and Littleport resident Avery Greer. Each summer for almost a decade, the girls are inseparable--until Sadie is found dead. While the police rule the death a suicide, Avery can't help but feel there are those in the community, including a local detective and Sadie's brother, Parker, who blame her. Someone knows more than they're saying, and Avery is intent on clearing her name, before the facts get twisted against her.

Another thrilling novel from the bestselling author of All the Missing Girls and The Perfect Stranger , Megan Miranda's The Last House Guest is a smart, twisty read with a strong female protagonist determined to make her own way in the world.
Contents
Intro; Dedication; Summer 2017; The Plus-One Party; Summer 2018; Chapter 1; Chapter 2; Chapter 3; Chapter 4; Chapter 5; Summer 2017; The Plus-One Party; Summer 2018; Chapter 6; Chapter 7; Chapter 8; Chapter 9; Chapter 10; Summer 2017; The Plus-One Party; Summer 2018; Chapter 11; Chapter 12; Chapter 13; Chapter 14; Chapter 15; Summer 2017; The Plus-One Party; Summer 2018; Chapter 16; Chapter 17; Chapter 18; Chapter 19; Chapter 20; Summer 2017; The Plus-One Party; Summer 2018; Chapter 21; Chapter 22; Chapter 23; Chapter 24; Chapter 25; Summer 2017; The Day After the Plus-One Party; Summer 2018 Chapter 26Chapter 27; Chapter 28; Chapter 29; Chapter 30; Summer 2019; First Day of Summer; Acknowledgments; About the Author; Copyright
Published Reviews
Booklist Review:
"Every summer, the small, secluded coastal town of Littleport, Maine, welcomes the vacationers, who spend enough money to give the year-round residents their life's blood. Avery Greer calls Littleport home, but her best friend, Sadie Loman, is part of the summer elite. Her family even gave Avery a job managing their Littleport properties. Sadie's sudden death during an end-of-season party is labeled a suicide, but a year later, Avery is convinced there's more to it. Poking her nose into the Lomans' business exposes the sharp differences between the people of the town and those who make it theirs for the summer, putting her in danger. The vivid description of this isolated town sets the stage for the revelation of Littleport's secrets. The structure isn't as smooth as it could be as it moves among the summer of Sadie's death, the present, and moments in between, but Miranda's (The Perfect Stranger, 2017) exploration of how Avery's and Sadie's lives intertwine gives the story its depth. Fans of Michele Campbell and Mary Kubica, who like family drama supporting their suspense, will enjoy.HIGH DEMAND BACKSTORY: Bestselling author Miranda is among the vanguard of female-focused suspense authors; patrons will fondly remember who introduced her to them (you).--Tracy Babiasz Copyright 2019 Booklist"
From Booklist, Copyright (c) American Library Association. Used with permission.
Publisher's Weekly Review:
"This searing small-town thriller from bestseller Miranda (The Perfect Stranger) explores the complexities of female friendship and the picturesque fictions that money can buy. Avery Greer, a native of Littleport, Maine, is at a house party with the town's other 20-somethings awaiting her best friend, wealthy summer resident Sadie Loman, when the police arrive: Sadie's body washed up on the rocks near her parents' estate, and they want alibis from those in attendance. The discovery of a suicide note ends all talk of foul play, but Avery can't fathom Sadie taking her own life. A year later, Avery uncovers new evidence that underscores her suspicions and inspires her to investigate. The deeper Avery digs, the more secrets she unearths that are worth killing to keep. Flashbacks to the night of Sadie's death reveal fissures in the girls' relationship, casting doubt on Avery's honesty as a narrator. Sharply drawn characters both ground and elevate the bombshell-laden plot, while evocative prose heightens tension and conjures place. Miranda delivers a clever, stylish mystery that will seize readers like a riptide. Agent: Sarah Davies, Greenhouse Literary. (June) © Copyright PWxyz, LLC. All rights reserved."
(c) Copyright PWxyz, LLC. All rights reserved
Additional Information
Subjects
Muder -- Investigation -- Fiction.
Electronic books.
Suspense fiction.

Publisher

[Place of publication not identified] :Simon & Schuster2019.



Contributors
OverDrive, Inc.

Language

English



System Details

Mode of access: World Wide Web.




Format: Adobe EPUB eBook




Format: Kindle Book




Format: OverDrive Read




Requires Adobe Digital Editions or Amazon Kindle



Description

1 online resource



ISBN
9781501165399
9781501165399

Other
Classic View