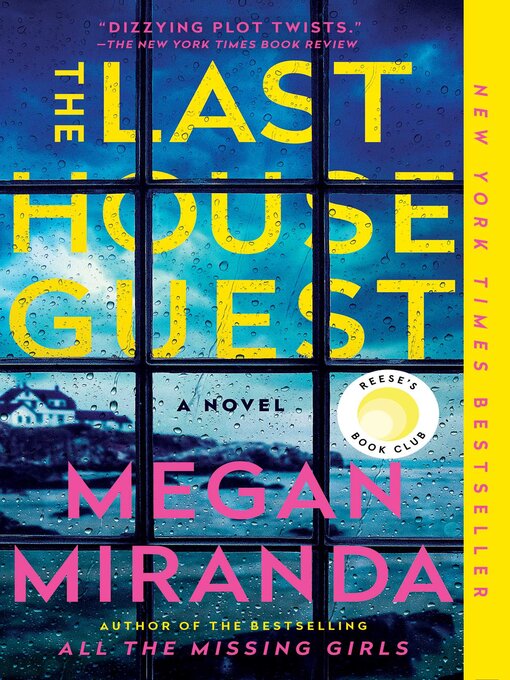 The last house guest
Format:

Kindle Book

2019

2019

Adobe EPUB ebook

OverDrive Read

Availability:

Unavailable

0 of 56 copies
15 people on waitlist
Summary
"From the acclaimed New York Times bestselling author of All the Missing Girls, a suspenseful new novel about an idyllic town in Maine dealing with the suspicious death of one of their own--and her best "summer" friend, who is trying to uncover the truth...before fingers point her way"--

Contents
Intro; Dedication; Summer 2017; The Plus-One Party; Summer 2018; Chapter 1; Chapter 2; Chapter 3; Chapter 4; Chapter 5; Summer 2017; The Plus-One Party; Summer 2018; Chapter 6; Chapter 7; Chapter 8; Chapter 9; Chapter 10; Summer 2017; The Plus-One Party; Summer 2018; Chapter 11; Chapter 12; Chapter 13; Chapter 14; Chapter 15; Summer 2017; The Plus-One Party; Summer 2018; Chapter 16; Chapter 17; Chapter 18; Chapter 19; Chapter 20; Summer 2017; The Plus-One Party; Summer 2018; Chapter 21; Chapter 22; Chapter 23; Chapter 24; Chapter 25; Summer 2017; The Day After the Plus-One Party; Summer 2018 Chapter 26Chapter 27; Chapter 28; Chapter 29; Chapter 30; Summer 2019; First Day of Summer; Acknowledgments; About the Author; Copyright
Published Reviews
Booklist Review:
"Every summer, the small, secluded coastal town of Littleport, Maine, welcomes the vacationers, who spend enough money to give the year-round residents their life's blood. Avery Greer calls Littleport home, but her best friend, Sadie Loman, is part of the summer elite. Her family even gave Avery a job managing their Littleport properties. Sadie's sudden death during an end-of-season party is labeled a suicide, but a year later, Avery is convinced there's more to it. Poking her nose into the Lomans' business exposes the sharp differences between the people of the town and those who make it theirs for the summer, putting her in danger. The vivid description of this isolated town sets the stage for the revelation of Littleport's secrets. The structure isn't as smooth as it could be as it moves among the summer of Sadie's death, the present, and moments in between, but Miranda's (The Perfect Stranger, 2017) exploration of how Avery's and Sadie's lives intertwine gives the story its depth. Fans of Michele Campbell and Mary Kubica, who like family drama supporting their suspense, will enjoy.HIGH DEMAND BACKSTORY: Bestselling author Miranda is among the vanguard of female-focused suspense authors; patrons will fondly remember who introduced her to them (you).--Tracy Babiasz Copyright 2019 Booklist"
From Booklist, Copyright (c) American Library Association. Used with permission.
Publisher's Weekly Review:
"This searing small-town thriller from bestseller Miranda (The Perfect Stranger) explores the complexities of female friendship and the picturesque fictions that money can buy. Avery Greer, a native of Littleport, Maine, is at a house party with the town's other 20-somethings awaiting her best friend, wealthy summer resident Sadie Loman, when the police arrive: Sadie's body washed up on the rocks near her parents' estate, and they want alibis from those in attendance. The discovery of a suicide note ends all talk of foul play, but Avery can't fathom Sadie taking her own life. A year later, Avery uncovers new evidence that underscores her suspicions and inspires her to investigate. The deeper Avery digs, the more secrets she unearths that are worth killing to keep. Flashbacks to the night of Sadie's death reveal fissures in the girls' relationship, casting doubt on Avery's honesty as a narrator. Sharply drawn characters both ground and elevate the bombshell-laden plot, while evocative prose heightens tension and conjures place. Miranda delivers a clever, stylish mystery that will seize readers like a riptide. Agent: Sarah Davies, Greenhouse Literary. (June) © Copyright PWxyz, LLC. All rights reserved."
(c) Copyright PWxyz, LLC. All rights reserved
Additional Information