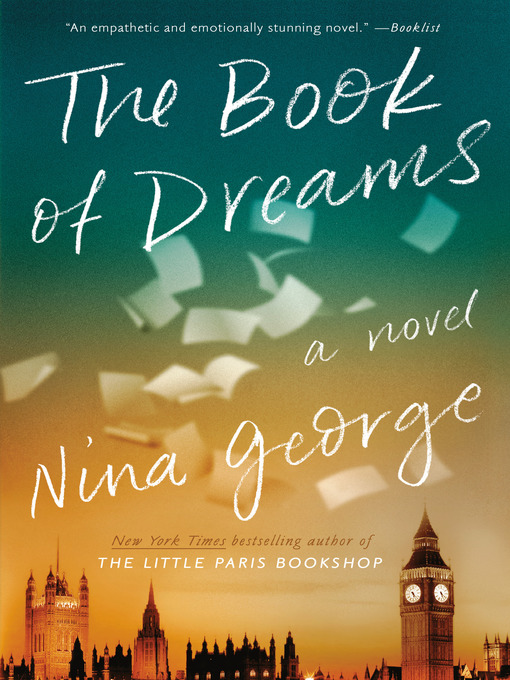 The Book of dreams a novel
Format:

Kindle Book

2019

2019

Adobe EPUB ebook

OverDrive Read

Availability:

Unavailable

0 of 1 copy
Summary
Comatose after an act of heroism, Henri Skinner revisits memories of his British youth, while a woman from his past forges an unexpected, profound friendship with Henri's teenage son, Sam.

Published Reviews
Booklist Review:
"Henri staggers out of the Thames with a young girl clinging to his neck. He had dived off the Hammersmith Bridge to save her, with a few people looking on mutely. After setting the girl down and dizzily stepping into the road, Henri is thrown into the air by a passing car. His injuries leave him in a coma, completely unresponsive. Sam, Henri's son, and Eddie, Henri's first love, find themselves at Henri's bedside, convinced that they can bring him back to the world of the living. In the depths of the coma unit at one of Britain's top hospitals, where spiritual connection and modern medicine intersect, Henri's loved ones face some of the toughest decisions of their lives. Using detailed flashbacks to keep Henri's memory alive and allowing Henri, Sam, and Eddie to narrate alternating chapters, George (The Little French Bistro, 2017) crafts an empathetic and emotionally stunning novel. Never preachy or maudlin, this deep dive into some of life's most haunting questions will appeal to fans of Isabel Allende and Mary Simses.--Stephanie Turza Copyright 2019 Booklist"
From Booklist, Copyright (c) American Library Association. Used with permission.
Publisher's Weekly Review:
"George's captivating novel (after The Little Paris Bookshop) centers on magical bonds between coma patients and their loved ones. Forty-five-year-old ex-war correspondent Henri Skinner is estranged from his 13-year-old son, and after a traffic accident leaves Henri in an induced coma, Sam starts to form something of a relationship with his father. Sam is gifted, intelligent, and synesthetic, blending the sounds of music and voices into shapes and colors, and although he can sometimes sense his father, he usually feels only darkness. He shares his sorrow with Eddie Tomlin, whom Henri had left over two years earlier but inexplicably named as his representative in his living will. Eddie, for her part, can't help loving the complex man who's "always both running away from himself and searching for his true identity." One other person in the hospital captures Sam's heart: 12-year-old Madelyn, a girl who's also in a coma after an accident that killed her family. Meanwhile, Henri and Madelyn are submerged in real and surreal memories of their earlier lives-and their looming deaths-within their comatose minds. This exploration of unfinished relationships has a haunting, evocative quality, and is a perfect, conversation-starting selection for book groups. (Apr.) © Copyright PWxyz, LLC. All rights reserved."
(c) Copyright PWxyz, LLC. All rights reserved
Additional Information