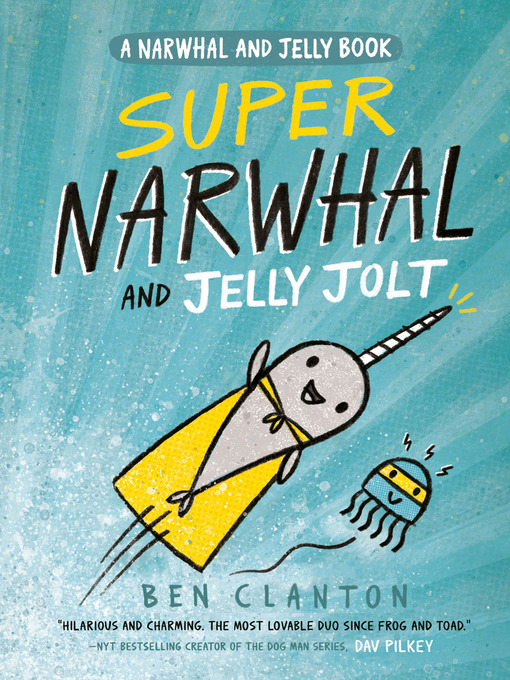 Super Narwhal and Jelly Jolt vol. 2
Format:

OverDrive Read

2017

2017

Availability:

Unavailable

0 of 3 copies
Summary
Join Super Narwhal and sidekick Jelly Jolt as they take on three SUPER new stories in this early graphic novel series. Happy-go-lucky Narwhal and no-nonsense Jelly find their inner superheroes in three new under-the-sea adventures. In the first story, Narwhal reveals his superhero alter-ego and enlists Jelly to help him figure out what his superpower is. Next, Narwhal uses his superpower to help a friend find his way back home. In the third story, Jelly is feeling blue and Narwhal comes to the rescue.

Contents
A super start!
Super sea creatures
Narwhal, you're a superstar!
Super Waffle and Strawberry Sidekick!
Super Narwhal vs. Blue Jelly a.k.a; the Super Superpower!.
Published Reviews
Publisher's Weekly Review:
"Narwhal and Jelly returns in a second collection of short comics, and, much like pop culture at large, they are superhero obsessed. Having taken up the mantle of Super Narwhal, Clanton's hero helps a star assume its place in the sky (a cannon is involved, as are wishes), among other adventures, including a waffle-themed comic created by the two friends. But although Super Narwhal has no trouble coming up with a mustachioed secret identity (Clark Parker Wayne, "a wealthy and eccentric trillionaire"), locating his superpower requires more work. The laughs are mighty, but even mightier is Narwhal's anything-is-possible attitude and deep reserves of heart. Ages 6-9. Agent: Marietta Zacker, Gallt Zacker Literary. (May) © Copyright PWxyz, LLC. All rights reserved."
(c) Copyright PWxyz, LLC. All rights reserved
Additional Information
Series
Clanton, Ben, 1988- Narwhal and Jelly book ; 2.
#1 - Narwhal
#2 - Super Narwhal and Jelly Jolt
#3 - Peanut butter and jelly
#4 - Narwhal's otter friend

Subjects
Narwhal Comic books, strips, etc
Narwhal Juvenile fiction
Jellyfishes Comic books, strips, etc
Jellyfishes Juvenile fiction
Marine animals Juvenile fiction
Marine animals Comic books, strips, etc
Friendship Juvenile fiction
Friendship Comic books, strips, etc
Narwhal Fiction
Jellyfishes Fiction
Marine animals Fiction
Friendship Fiction
Narwhal Cartoons and comics
Jellyfishes Cartoons and comics
Marine animals Cartoons and comics
Friendship Cartoons and comics
Cartoons and comics
Comic and Graphic Books
Juvenile Literature
Juvenile Fiction
Humor (Fiction)
Electronic books.
Graphic novels.
Graphic novels, Juvenile.

Publisher

[Place of publication not identified] :Tundra2017




2017



Contributors
OverDrive, Inc.

Audience

GN510L



Language

English



System Details

Mode of access: World Wide Web.




Format: OverDrive Read



Description

1 online resource.



ISBN
9781101918302
9781101918302

Other
Classic View