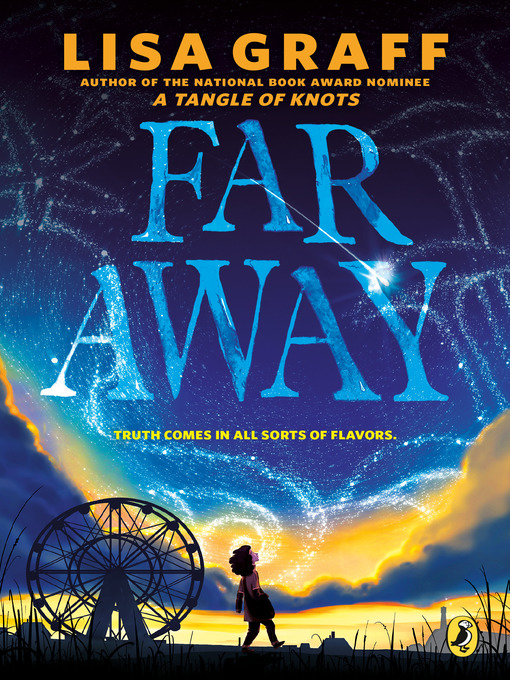 Far away
Format:

Kindle Book

2019

2019

Adobe EPUB ebook

OverDrive Read

Availability:

Available from OverDrive

3 of 3 copies
Summary
Twelve-year-old CJ believes her mom is dead and that she can only communicate with her through her aunt, who is a medium, but when CJ finds out that her mother is actually alive, she goes on a journey to find her.--

Published Reviews
Booklist Review:
"Not every 12-year-old would enjoy homeschooling herself as she rode cross-country on her Aunt Nic's televised psychic medium tour, but CJ's no ordinary kid. She knows how to shift gears on a stick shift truck and how to navigate from Phoenix to Philadelphia, and she knows a lot about how spirit works. But when Aunt Nic, who has always been a medium for CJ to talk to her deceased mother, says her mom is being drawn Far Away and won't be around anymore, CJ decides to go on a road trip of her own in search of an object a tether to bring her mother back to Earth. The story is a genre blend of mystery and realistic family drama, with hints of magic and mysticism. Graff never shies away from difficult topics, and this is as brave as expected. It's less about spirit than about faith as a larger concept, and it includes a welcome representation of nontraditional family units; the boundaries of trust and its repair when broken; preteen independence; and the permanence of our decisions.--Becca Worthington Copyright 2019 Booklist"
From Booklist, Copyright (c) American Library Association. Used with permission.
Publisher's Weekly Review:
"Because her mother allegedly died on the day she was born, and she never knew her father, CJ lives in a tour bus with her Aunt Nic, who works as a psychic medium, reconnecting her devotees with deceased loved ones. CJ likewise benefits from her aunt's "Gift," cherishing the moments when her mother talks to her, via Aunt Nic, through the auspices of "Spirit." On her 12th birthday, CJ is understandably bereft when her mother announces that she will no longer visit, since she's "being drawn Far Away"; CJ has been told that her mother can only be pulled back to Earth by a "tether," an item that the dead treasured while alive. Ostensibly guided by Spirit, CJ sets out with Jax, Aunt Nic's perspicacious teenage employee, to locate her mother's tether, a quest that involves a jumble of cryptic clues, including message-encoded octopus images and a mushroom sculpture her mother created in high school. Graff (The Great Treehouse War) nimbly crafts a credible novel from the unlikely, shaping layered characters and unforeseen plot twists while exploring issues of truth and illusion-and the emotion-infused miasma that separates the two. A genuinely moving and memorable story. Ages 8-12. Agent: Stephen Barbara, InkWell Management. (Mar.) © Copyright PWxyz, LLC. All rights reserved."
(c) Copyright PWxyz, LLC. All rights reserved
Additional Information