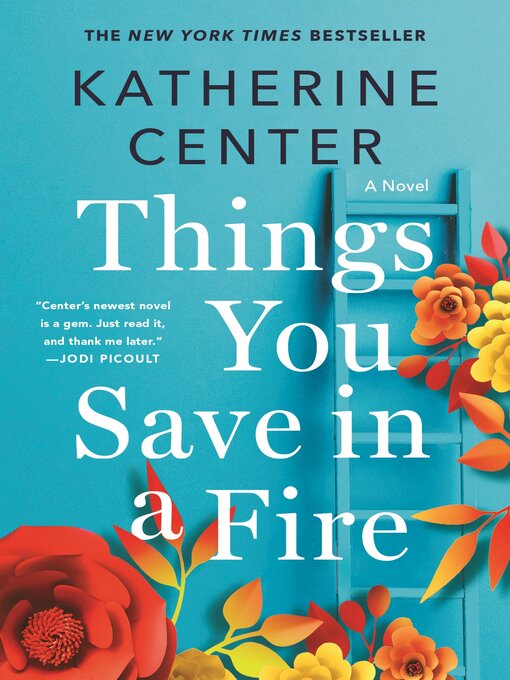 Things you save in a fire
Format:

Kindle Book

2019

2019

Adobe EPUB ebook

OverDrive Read

Availability:

Available from OverDrive

3 of 24 copies
4 people on waitlist
Summary
"Cassie Hanwell was born for emergencies. As one of the only female firefighters in her Texas firehouse, she's seen her fair share of them, and she's excellent at dealing with other people's tragedies. But when her estranged and ailing mother asks her to uproot her life and move to Boston, it's an emergency of a kind Cassie never anticipated. The tough, old-school Boston firehouse is as different from Cassie's old job as it could possibly be. Hazing, a lack of funding, and poor facilities mean that the firemen aren't exactly thrilled to have a "lady" on the crew, even one as competent and smart as Cassie. Except for the handsome rookie, who doesn't seem to mind having Cassie around. But she can't think about that. Because she doesn't fall in love. And because of the advice her old captain gave her: don't date firefighters. Cassie can feel her resolve slipping...but will she jeopardize her place in a career where she's worked so hard to be taken seriously?"--Goodreads.com.

Published Reviews
Booklist Review:
"Cassie Hanwell has never forgiven her mother, Diana, for leaving her and her father on Cassie's sixteenth birthday. So, a decade later, when Diana calls to tell Cassie that she's lost her vision in one eye and asks Cassie to move across the country to take care of her, Cassie is anything but eager. Now a firefighter in Austin, Cassie loves her job and her team until a run-in with the man who assaulted her on the night her mother left costs her both. Cassie reluctantly moves in with Diana and is forced to start over with a new fire department, one more sexist and backward-thinking than the one she came from. And then the worst thing in the world happens. Cassie, who has spent her adult life avoiding romantic attachments, falls head over heels for the handsome rookie at the station. The follow-up to Center's breakout hit, How to Walk Away (2018), in which Cassie had a brief cameo, has all the hallmarks that made readers fall in love with the previous book: an appealing (if guarded, in this case) heroine, a compelling love story, a tearjerking twist, and a thoroughly absorbing story. Another winner from Center.--Kristine Huntley Copyright 2019 Booklist"
From Booklist, Copyright (c) American Library Association. Used with permission.
Additional Information