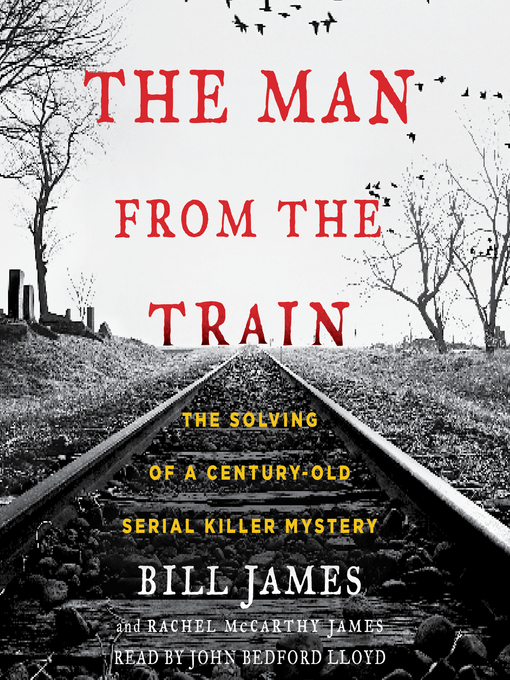 The man from the train the solving of a century-old serial killer mystery
Format:

OverDrive MP3 Audiobook

2017

2017

OverDrive Listen

Availability:

Unavailable

0 of 1 copy
6 people on waitlist
Summary
"Between 1898 and 1912, families across the country were bludgeoned in their sleep with the blunt side of an axe. Jewelry and valuables were left in plain sight, bodies were piled together, faces covered with cloth. Some of these cases, like the infamous Villasca, Iowa murders, received national attention. But few people believed the crimes were related. And fewer still would realize that all of these families lived within walking distance to a train station. When celebrated baseball statistician and true crime expert Bill James first learned about these crimes, he began to investigate others that might fit the same pattern. Applying the analytical acumen he brings to baseball analysis, he empirically determined which crimes were committed by the same person. Then after sifting through thousands of local newspapers, court transcripts and public records, he and his daughter Rachel made an astonishing discovery. They learned the true identity of this monstrous criminal, and in turn, uncovered one of the deadliest serial killers in American history. Riveting and immersive, with writing as sharp as the cold side of an axe, The Man From the Train is a groundbreaking approach to true crime that will convince skeptics, delight aficionados, and change the way we view criminal history"--

Contents
Preface
Villisca
Section I. 1909 to 1912
The bloody penny
Logan's turnpike
The scandalous Schultzes
Marshalltown
The New Orleans axeman
Which is not really a chapter
Martin City
The Casaways
Oregon
The double event
Monmouth
Ellsworth
Paola
Section II. Summer 1912
Villisca 2
Villisca 3
Villisca 4
Villisca 5
Dynamite Pfanschmidt
Section III. 1900 to 1906
Stepping backward
Trenton Corners
Standing by Henry
An uncertain set of names
Just when you thought this story couldn't possibly get any uglier
Hughes
The Christmas Day murders
West Memphis
Jacksonville
Cottonwood, Alabama
Murder in the cold
The worst one ever
The Lyerly family
Section IV
Hiatus
The crimes of 1908
Section V
Conversation with the reader
Hurley
Beckley and beyond
The Zoos and the Hubbells
Clementine Barnabet
Harry Ryan
The first crime
Brookfield and Villisca
Where the evening is spread out against the sky
Hinterkaifeck.
Additional Information