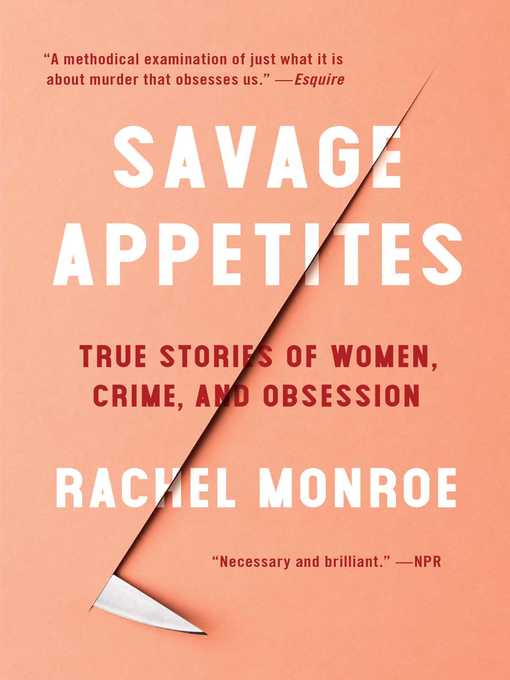 Savage appetites Four true stories of women, crime, and obsession
Format:

Kindle Book

2019

2019

Adobe EPUB ebook

OverDrive Read

Availability:

Available from OverDrive

1 of 1 copy
3 people on waitlist
Summary
A "necessary and brilliant" (NPR) exploration of our cultural fascination with true crime told through four "enthralling" (The New York Times Book Review) narratives of obsession.In Savage Appetites, Rachel Monroe links four criminal roles—Detective, Victim, Defender, and Killer—to four true stories about women driven by obsession. From a frustrated and brilliant heiress crafting crime-scene dollhouses to a young woman who became part of a Manson victim's family, from a landscape architect in love with a convicted murderer to a Columbine fangirl who planned her own mass shooting, these women are alternately mesmerizing, horrifying, and sympathetic. A revealing study of women's complicated relationship with true crime and the fear and desire it can inspire, together these stories provide a window into why many women are drawn to crime narratives—even as they also recoil from them. Monroe uses these four cases to trace the history of American crime through the growth of forensic science, the evolving role of victims, the Satanic Panic, the rise of online detectives, and the long shadow of the Columbine shooting. Combining personal narrative, reportage, and a sociological examination of violence and media in the 20th and 21st centuries, Savage Appetites is a "corrective to the genre it interrogates" (The New Statesman), scrupulously exploring empathy, justice, and the persistent appeal of crime.

Published Reviews
Booklist Review:
"Monroe's collection of four longform essays sits at the intersection of true crime, journalism, and memoir. She bases each piece on one of four crime archetypes detective, victim, lawyer, and killer and intertwines her own narrative and ruminations about when an interest becomes unhealthy, disrespectful, or even dangerous. Frances Glessner Lee made detailed miniatures, an acceptable hobby for a 60-something woman in the 1940s but hers were crime scenes made to educate officers and combat bias. Alisa Statman became enmeshed with the Tate family after moving into the back cottage of the house where some of the Manson Murders occurred. Lorri Davis was so consumed with the innocence of one of the West Memphis Three that she started a correspondence, which ultimately lead to marriage. And Lindsay Souvannarath identified with the Columbine shooters to the point of planning her own mass shooting. Monroe's writing is superb and each woman's story is fascinating even if, as a whole, the book lacks a cohesive narrative thread. Regardless, true crime aficionados will appreciate this spin on the genre.--Kathy Sexton Copyright 2019 Booklist"
From Booklist, Copyright (c) American Library Association. Used with permission.
Publisher's Weekly Review:
"Monroe's first book, blending personal narrative with sociological analysis, offers an engrossing look at a counterintuitive yet well-established phenomenon: many women's fascination with true crime. Monroe (who counts herself among the crime obsessed) focuses on four women whose true crime obsessions have significantly altered the course of their lives. Frances Glessner Lee created the Nutshell Studies of Unexplained Death crime scene dioramas. Alisa Statman became deeply enmeshed in the lore of the Manson murders while living in the house where Sharon Tate was slain. Lori Davis, a landscape architect, fell in love with--and set out to prove the innocence of--a convicted murderer, and Lindsay Souvannarath was a young woman with a dangerous fixation on the Columbine shooters. Writing in incisive, lyrical prose, Monroe takes a deep dive into possible reasons why women are drawn to tales of violence: do they seek murder stories in order to fine-tune their own survival instincts, lest they become the next victims? Or, as Monroe bravely and refreshingly acknowledges, maybe women respond to tales of human darkness because it mirrors their own ("perhaps we liked creepy stories because something creepy was in us"). Readers who have pondered their own interest in true crime stories will welcome Monroe's incisive approach to the topic. Agent: P.J. Mark, Janklow & Nesbit. (Aug.)"
(c) Copyright PWxyz, LLC. All rights reserved
Additional Information