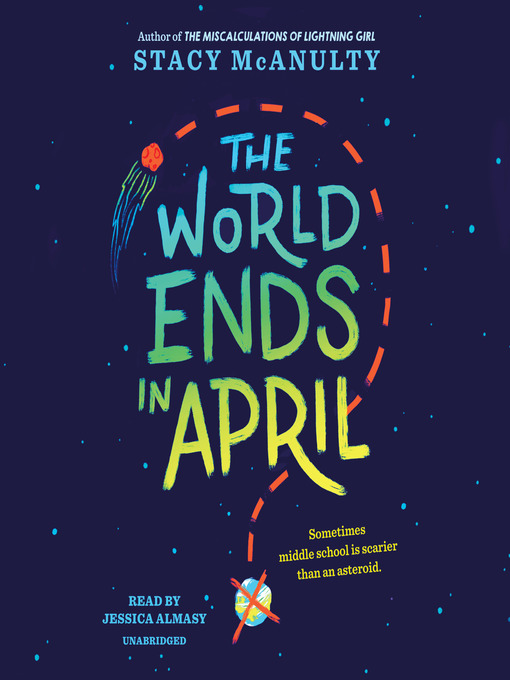 The world ends in April
Format:

OverDrive MP3 Audiobook

2019

2019

OverDrive Listen

Availability:

Available from OverDrive

1 of 1 copy
Summary
Every day in middle school can feel like the end of the world. Eleanor Dross knows a thing or two about the end of the world, thanks to a survivalist grandfather who stockpiles freeze-dried food and supplies. So when she reads about a scientist's prediction that an asteroid will strike Earth in April, Eleanor knows her family will be prepared. Her classmates are on their own. Eleanor has just one friend she wants to keep safe: Mack. They've been best friends since kindergarten, and they'll survive the end of the world together if Mack doesn't go away to a special school for the blind. But it's hard to keep quiet about a life-destroying asteroid, especially at a crowded lunch table, and soon Eleanor is the president of the (secret) End of the World Club. It turns out that prepping for it is actually kind of fun. But she can't really be prepared for everything. And one way or another, Eleanor's world is about to change.

Published Reviews
Booklist Review:
"When Eleanor stumbles upon a website predicting that next year an asteroid will bring about TEOTWAWKI (the end of the world as we know it), she buys in. After all, the site's author is an ex-Harvard astrophysicist, and Eleanor's grandfather is a survivalist who jumps at the chance to prepare for an apocalypse. With the help of her best friend, Mack a sensitively depicted blind boy Eleanor spreads the word, but as the day draws near, she is faced with the growing possibility of Mack transferring to a specialized school. She clings to her belief in the pending disaster, even as others try reasoning with her. Whether or not the asteroid strikes, her world will never be the same, and the suspense will keep readers flipping pages. McAnulty (The Miscalculations of Lightning Girl, 2018) returns with another STEM-themed tale, balancing scientific ideas with middle-school drama. It's a well-paced, engrossing plot with endearing characters, though sympathy for Eleanor may ultimately hinge, for better or worse, on her competence in regard to the coming end.--Ronny Khuri Copyright 2019 Booklist"
From Booklist, Copyright (c) American Library Association. Used with permission.
Publisher's Weekly Review:
"Elle's grandfather is a "prepper" who stages drills and stockpiles food and supplies to survive unspecified, inevitable cataclysmic events. The seventh grader becomes a convert to his cause after embracing online posts by a sacked Harvard astronomer who predicts that an asteroid will soon destroy Earth. Elle convinces her kind and witty best friend, Mack, who is blind, to help her launch a clandestine survival club at school, and she also teams up with her snippety former nemesis, Londyn, to publish the Doomsday Express newsletter to prepare their peers for the imminent Armageddon. Though the overwrought, single-thread plot begins to strain credibility and patience, McAnulty (The Miscalculations of Lightning Girl) adds substantial layers to the story with insights into her emotionally vulnerable protagonists' credence in the pending apocalypse: Elle reasons it will save her from braving school without Mack, who is transferring to a school for the blind; Londyn hopes it will reunite her separated parents. Throughout, snippets of sly humor lighten the novel's potential darkness, as when Elle muses, "I think asteroids have a way of wiping out middle school drama. It's one of the plus sides of the end of the world." Ages 8--12. (Sept.)"
(c) Copyright PWxyz, LLC. All rights reserved
Additional Information