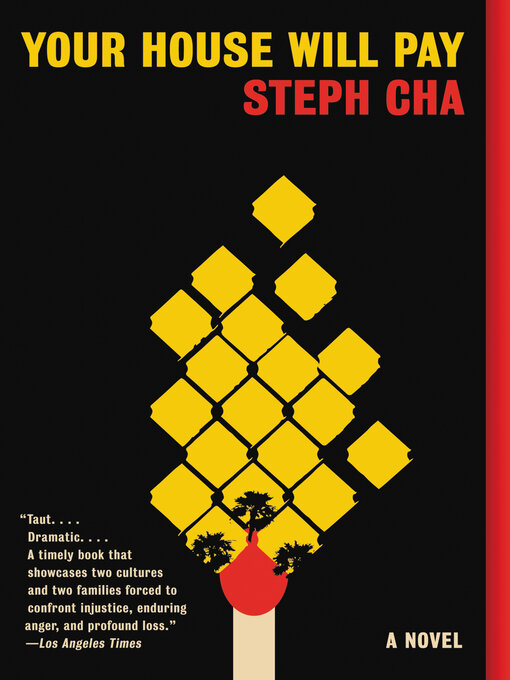 Your house will pay a novel
Format:

Kindle Book

2019

2019

Adobe EPUB ebook

OverDrive Read

Availability:

Unavailable

0 of 3 copies
4 people on waitlist
Summary
"In the wake of the police shooting of a black teenager, Los Angeles is as tense as it's been since the unrest of the early 1990s. But Grace Park and Shawn Matthews have their own problems. Grace is sheltered and largely oblivious, living in the Valley with her Korean-immigrant parents, working long hours at the family pharmacy. She's distraught that her sister hasn't spoken to their mother in two years, for reasons beyond Grace's understanding. Shawn has already had enough of politics and protest after an act of violence shattered his family years ago. He just wants to be left alone to enjoy his quiet life in Palmdale. But when another shocking crime hits LA, both the Park and Matthews families are forced to face down their history while navigating the tumult of a city on the brink of more violence"--

Published Reviews
Booklist Review:
"When Grace Park's mother, Jung-Ja Han, is targeted in a drive-by shooting, Grace discovers the truth about her family's pivotal role in the 1992 L.A. riots. Amid growing tension between South Central's Asian shop owners and their African American customers, Grace's mother shot and killed Ava Matthews, a teenage girl Grace had accused of shoplifting and assault, despite the later discovery of only two dollars clutched in Ava's lifeless hand. Jung-Ja's light sentence and the Rodney King trial ignited rioting. Fleeing backlash, Jung-Ja changed her name to Yvonne Park and hid in the suburbs. Shawn, Ava's younger brother, has rebuilt his life after emerging from prison and leaving his fellow Crips gang members behind. Shawn's cousin Ray has finally been released from prison, too, and Shawn is optimistic about Ray's reunion with his community-activist mother, his wife, and the teenage twins Shawn has helped raise during Ray's absence. But the past won't go away, and Shawn and Ray face police scrutiny for Jung-Ja's shooting. In addition, Ray has been keeping secrets. As Grace and Shawn desperately try to hold their families together, community outrage over another teen's shooting places them and Ava's tragic death back in the media spotlight. A gripping, thoughtful portrayal of family loyalty, hard-won redemption, and the destructive force of racial injustice. Cha, author of the Juniper Song PI series, offers a strong contender for the summer's blockbuster read.HIGH-DEMAND BACKSTORY: Cha is a rising star in crime fiction, and her latest, with its focus on racial injustice, may well be her breakout novel.--Christine Tran Copyright 2010 Booklist"
From Booklist, Copyright (c) American Library Association. Used with permission.
Publisher's Weekly Review:
"Based on a true case, Cha's ambitious tale of race, identity, and murder delivers on the promise of her Juniper Song mysteries (Dead Soon Enough, etc.). Racial tensions in Los Angeles are at a boiling point following the police shooting of a black teenager, and 27-year-old Grace Park, who lives with her Korean immigrant parents, shares the sense of outrage felt by many. Her sheltered world is suddenly shattered when her mother, Yvonne, is shot in front of the family pharmacy in a drive-by shooting. Dark family secrets begin to emerge about Yvonne's involvement in the notorious 1991 shooting of Ava Matthews, an unarmed young black woman, by a Korean shopkeeper. Grace is torn by conflicting emotions of concern for her mother and shame at the implications of her mother's crime. Meanwhile, Ava's brother, Shawn Matthews, has tried to put the past behind him. When news of Yvonne's attempted murder reaches him, it brings up emotions Shawn has long fought to keep down. The tension rises as the authorities circle in on his family as possible suspects in Yvonne's shooting. This timely, morally complex story could well be Cha's breakout novel. Agent: Ethan Bassoff, Lippincott Massie McQuilkin. (Oct.)"
(c) Copyright PWxyz, LLC. All rights reserved
Additional Information