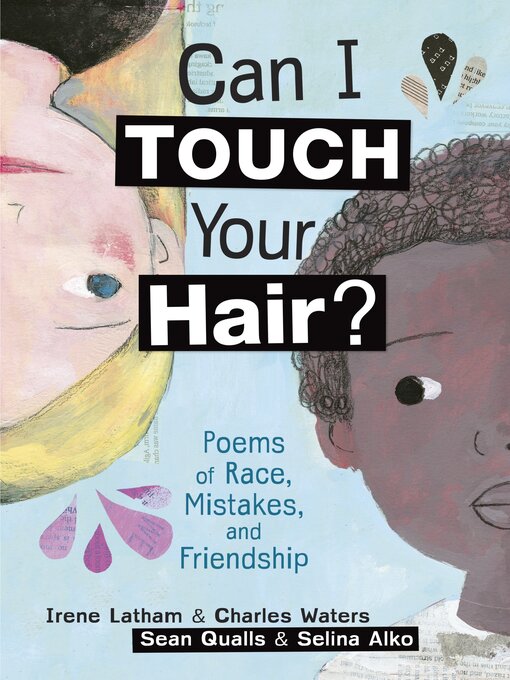 Can I touch your hair? poems of race, mistakes, and friendship
Format:

Kindle Book

2017

2018

Adobe PDF eBook

OverDrive Read

Availability:

Available from OverDrive

188 of 188 copies
Summary
Irene Latham, who is white, and Charles Waters, who is black, present paired poems about topics including family dinners, sports, recess, and much more. This relatable collection explores different experiences of race in America.

Contents
The poem project: writing partner ; Shoes: shopping with dad ; Hair: strands ; Church: Sunday service Beach day: beach ; The athlete: horseback riding ; Playground: fresh start ; Ghost: geography ; Dinner conversation: best and worst ; Forgiveness: apology ; Officer Brassard: news ; Punishment: punishment ; Sleepover: why aunt Sarah doesn't go downtown after dark ; The n-bomb: piano lessons ; Bedtime reading: author visit ; Quiet time: blooming flower ; Dear Mrs. Vandenberg:
Published Reviews
Booklist Review:
"When they can't find partners quick enough, Charles and Irene get stuck working together on their poetry project. To Irene, Charles is too opinionated. To Charles, Irene is mousy and dull. They are too different, especially since Irene is white and Charles is black. In mirrored verses, the pair discover their similarities and respectfully examine their differences covering topics as mundane as buying shoes, and as topical as police brutality, corporal punishment, and white guilt. Latham and Waters see this work as a conversation between their fictional, young poet doppelgängers, meant to heal divides and start conversations. Similarly, the art is a collaboration between a husband-and-wife team, blending collage, colored pencils, and acrylic paint into dreamy abstractions that feature a motif of word flowers blooming across pages where Irene and Charles finally seem to connect. Young readers searching for means to have difficult, emotional, and engaged discussions about race will find an enlightening resource in Irene and Charles' explorations.--Jones, Courtney Copyright 2017 Booklist"
From Booklist, Copyright (c) American Library Association. Used with permission.
Publisher's Weekly Review:
"Two classmates-serving as stand-ins for poets Latham and Waters-reluctantly pair up on a poetry-writing project and reflect on their identities, relationships, and the role race plays in their lives, in more than 30 candid, thought-provoking poems. The students aren't initially close ("She hardly says anything. Plus, she's white," thinks talkative Charles after being assigned to work with Irene), but that soon changes. The children's passions and preoccupations are revealed in poems that explore topics in parallel-new shoes, dinnertime, parental punishments, and police violence, among them-and the racial divisions of the children's churches, communities, and school become clear, too. "I smile when Shonda/ comes over, but she doesn't/ smile back," writes Irene. "You've got/ the whole rest of the playground,/ she says. Can't we/ at least have this corner?" Qualls and Alko (Why Am I Me?) play into the moody, reflective atmosphere in mixed-media collages whose teardrop/budding leaf motif underscores the way that conversation can lead to growth. The poems delicately demonstrate the complexity of identity and the power of communication to build friendships. Ages 8-12. Authors' agent: Rosemary Stimola, Stimola Literary Studio. Illustrators' agent: Rebecca Sherman, Writers House. (Jan.) © Copyright PWxyz, LLC. All rights reserved."
(c) Copyright PWxyz, LLC. All rights reserved
Additional Information