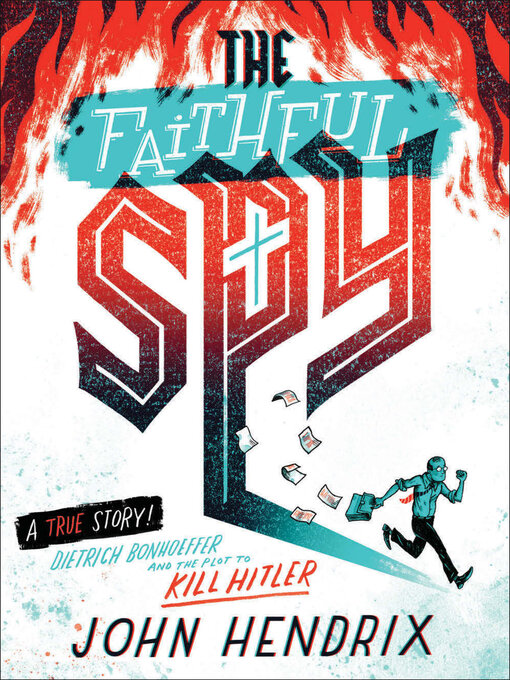 The faithful spy Dietrich Bonhoeffer and the plot to kill Hitler
Format:

Kindle Book

2018

2018

Adobe PDF eBook

OverDrive Read

Availability:

Available from OverDrive

1 of 1 copy
Summary
Interweaves handwritten text and art to tell the true story of Dietrich Bonhoeffer, a German pastor who made the ultimate sacrifice to free the German people from the rule of Adolf Hitler.

Published Reviews
Booklist Review:
"*Starred Review* Biographies of key figures from WWII are plentiful in kids books, but Hendrix's captivating account of the life of Dietrich Bonhoeffer is a standout. In engagingly written chapters on heavily illustrated pages with plentiful quotes from Bonhoeffer's writing, Hendrix covers the German theologian's childhood, early interest in religion and theology, illuminating travels in America, dismay over Hitler's rise to power, and brave dedication to resistance in a variety of ways, including direct action. Interspersed with paragraphs about Bonhoeffer's life and the circumstances in Germany that led to Hitler's regime are spot illustrations, splash-page artwork, comics panels, maps, and more, which help communicate not only the bare facts but also the emotional tenor of the story. Bonhoeffer's face is almost always filled with vivid expressions of wonder or worry, while shadowy, jagged images of Nazis goose-stepping, Hitler shouting, and huge wolves with slavering jaws illustrate the looming violence promised by the Third Reich. The combination of Hendrix's sharp, concise words and evocative artwork gives readers a strong sense of historical context, the enormity of the perilous actions undertaken by Bonhoeffer and other resistance fighters, and the revolutionary nature of his theology of action and civil disobedience. A poignant, compellingly presented, and timely account of a brave individual who lived his life with true conviction.--Hunter, Sarah Copyright 2010 Booklist"
From Booklist, Copyright (c) American Library Association. Used with permission.
Publisher's Weekly Review:
"Hendrix (Miracle Man) captures the powerful and purposeful life of the pastor Dietrich Bonhoeffer, whose faith and philosophy eventually led him to take a stand against Hitler when few others in Germany would. Using a variety of art styles, the book highlights Bonhoeffer's intellectual, spiritual, and personal development alongside the cultural and political shifts behind Hitler's rise to power. It also shows Bonhoeffer's struggle to question his country's leader and his work to become more than mere witness to history-his writings, his work as "chief pastor to the conspiracy"-before his eventual capture and hanging. Hendrix details Bonhoeffer's life in accessible prose, offering appropriate, meaningful context and in places using Bonhoeffer's own words. Provocative background imagery enhances the comic's mood and atmosphere: a noose wrapped around a church shows religious strangulation in Hitler's Germany; prose shown on the moonlit wall of Bonhoeffer's prison cell conveys imprisonment's isolation. These visuals powerfully communicate the dread, despair, and violence inherent in living-and fighting against-Hitler's Germany. Final art not seen by PW. Ages 10-14. (Sept.) © Copyright PWxyz, LLC. All rights reserved."
(c) Copyright PWxyz, LLC. All rights reserved
Additional Information
Subjects
Bonhoeffer, Dietrich, 1906-1945 Juvenile literature
Hitler, Adolf, 1889-1945 Assassination attempts Juvenile literature
Bonhoeffer, Dietrich, 1906-1945
Hitler, Adolf, 1889-1945 Assassination attempts
Anti-Nazi movement Germany Biography Juvenile literature
Government, Resistance to Germany History 20th century Juvenile literature
Church and state Germany History 20th century Juvenile literature
Theologians Germany Biography Juvenile literature
Anti-Nazi movement Germany Biography
Government, Resistance to Germany History 20th century
Church and state Germany History 20th century
Theologians Germany Biography
Comic and Graphic Books
History
Fiction
Electronic books.
1906-1945
1889-1945
1906-1945.
20th century
20th century.

Publisher

[Place of publication not identified] :ABRAMS,2018




ABRAMS, Inc. (Ignition)2018



Contributors
OverDrive, Inc.

Audience

980L



Language

English



System Details

Mode of access: World Wide Web.




Format: Kindle Book




Format: OverDrive Read




Requires Amazon Kindle



Description

1 online resource



Bibliography Notes

Includes bibliographical references (page 172 ) and index.



ISBN
9781683352945
9781683352945

Other
Classic View