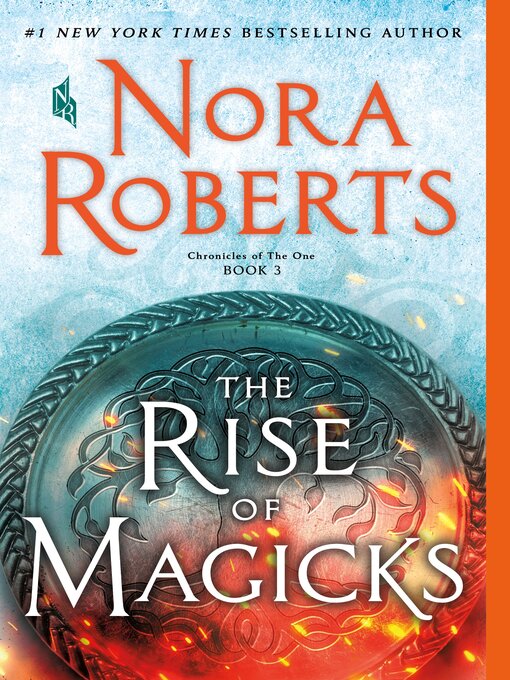 The rise of magicks
Format:

Kindle Book

2019

2019

Adobe EPUB ebook

OverDrive Read

Availability:

Available from OverDrive

57 of 64 copies
Summary
"The #1 New York Times bestselling author of Year One and Of Blood and Bone concludes her stunning new trilogy praised as "A match for end-of-the-world classics like Stephen King's The Stand." After the sickness known as the Doom destroyed civilization, magick has become commonplace, and Fallon Swift has spent her young years learning its ways. Fallon cannot live in peace until she frees those who have been preyed upon by the government or the fanatical Purity Warriors, endlessly hunted or locked up in laboratories, brutalized for years on end. She is determined to save even those who have been complicit with this evil out of fear or weakness-if, indeed, they can be saved. Strengthened by the bond she shares with her fellow warrior, Duncan, Fallon has already succeeded in rescuing countless shifters and elves and ordinary humans. Now she must help them heal-and rediscover the light and faith within themselves. For although from the time of her birth, she has been The One, she is still only one. And as she faces down an old nemesis, sets her sights on the enemy's stronghold, and pursues her destiny-to finally restore the mystical shield that once protected them all-she will need an army behind her..."--

Published Reviews
Booklist Review:
"The world desperately needs a miracle. It has been two decades since the Doom - the mysterious plague that has killed billions of people - first appeared. Now what is left of the planet's human population is divided between the Magicks, and those like the Purity Warriors who believe the Magicks are responsible for the Doom. Fortunately, the earth also has Fallon Swift. Now fully trained in her magical powers, Fallon is determined to free the Magicks who have been enslaved by the Purity Warriors and to create new communities for everyone who survived to live in peace. But in order to do so, Fallon must assemble a coalition of magicks and non-magicks, who will be willing to fight together and banish the evil force behind the Doom once and for all. Deftly wielding her own brand of literary magic, Roberts once again merges mesmerizing characters, inventive plotting, and propulsive pacing as she presents the compulsively readable finale to her altogether bewitching Chronicles of The One trilogy: Year One (2017), Of Blood and Bone (2018).HIGH-DEMAND BACKSTORY: A million-copy, one-day laydown will ensure that the hordes of readers hungry for the conclusion to best-selling Roberts' sf trilogy will be fully satisfied.--John Charles Copyright 2010 Booklist"
From Booklist, Copyright (c) American Library Association. Used with permission.
Publisher's Weekly Review:
"Roberts's rushed-feeling follow-up to 2018's Of Blood and Bone concludes her Chronicles of the One trilogy, which details how 19-year-old Fallon Swift--who is prophesied to save the world--raises an army to prepare for the ultimate showdown between good and evil. The book is set some 20 years after mankind was nearly eradicated by a virus unleashed by a broken magical shield. The survivors either remained human or evolved into creatures with supernatural powers known as Uncannys. Fallon spends much of this volume making alliances and taking out strongholds run by intolerant humans and Dark Uncannys in a buildup to taking back New York City for the good guys. Fallon's goal is to deduce the proper time to close the shield that started all this, and to settle the score with her evil cousin Petra. While Roberts retains her ability for using humor to break up the heavy-handedness of fantasy writing, her usually on-point pacing is off. There's a romance between Fallon and her coleader, Duncan, who had a nicely unfurling flirtation in the previous novel but here go from resisting each other to deeply in love to practically engaged in a heartbeat. Showdowns are built up as epic but end before readers can fully absorb them. Fans will see flashes of Roberts's talents here, but will wish that she had fleshed things out. 1,000,000-copy announced first printing. (Nov.)"
(c) Copyright PWxyz, LLC. All rights reserved
Additional Information