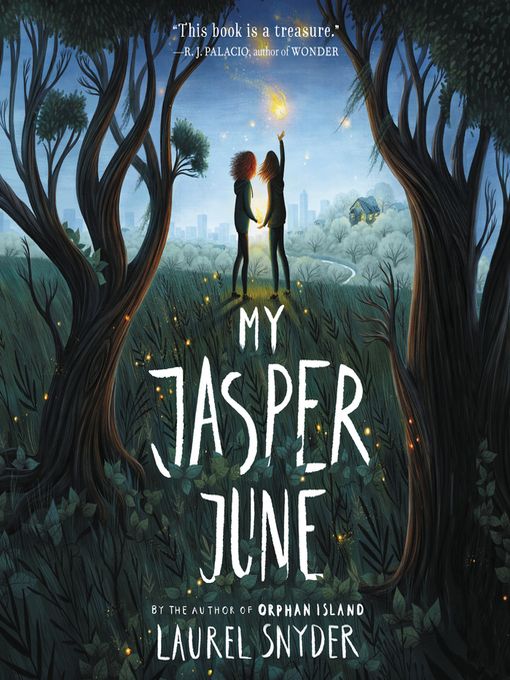 My Jasper June
Format:

OverDrive MP3 Audiobook

2019

2019

OverDrive Listen

Availability:

Available from OverDrive

2 of 2 copies
Summary
Laurel Snyder, author of Orphan Island, returns with another unforgettable story of the moments in which we find out who we are, and the life-altering friendships that show us what we can be. The school year is over, and it is summer in Atlanta. The sky is blue, the sun is blazing, and the days brim with possibility. But Leah feels...'ost. She has been this way since one terrible afternoon a year ago, when everything changed. Since that day, her parents have become distant, her friends have fallen away, and Leah's been adrift and alone. Then she meets Jasper, a girl unlike anyone she has ever known. There's something mysterious about Jasper, almost magical. And Jasper, Leah discovers, is also lost. Together, the two girls carve out a place for themselves, a hideaway in the overgrown spaces of Atlanta, away from their parents and their hardships, somewhere only they can find. But as the days of this magical June start to draw to a close, and the darker realities of their lives intrude once more, Leah and Jasper have to decide how real their friendship is, and whether it can be enough to save them both.

Published Reviews
Booklist Review:
"Leah, 13, is not looking forward to summer. Ever since her brother drowned, she hasn't had much enthusiasm for anything. Her parents are distant in their grieving, and Leah herself has wandered away from her friends, since she feels like no one can understand her. So she's especially surprised when she meets an interesting and outgoing girl named Jasper while she's out wandering the countryside by her home. Jasper is everything Leah currently is not adventurous and willing to take risks and soon the girls enter into a sudden friendship and Jasper helps Leah confront her grief. However, Jasper's life is not as sunny as it seems. She is hiding her own dark secrets she's run away from an abusive home and is living in an abandoned house. Will Leah be able to offer her new friend the same support and protection Jasper offered her or will she betray Jasper's secrets and ruin their friendship? Leah's first-person narrative acutely gets at the varied, sometimes volatile experience of grief, and tweens who like emotionally raw storytelling will likely be hooked.--Lindsey Tomsu Copyright 2010 Booklist"
From Booklist, Copyright (c) American Library Association. Used with permission.
Publisher's Weekly Review:
"Leah Davidson, 13, lives in a tight-knit Atlanta neighborhood-"one big family," neighbors call it. But ever since last summer, when her brother Sam drowned, Leah's parents have become ghostlike, and the closeness she once felt with her family and best friends has disappeared. Now, facing a long and lonely summer at home, Leah is immediately intrigued by the red-headed girl she meets while wandering through a nearby farm. Jasper is gregarious, adventurous, and possessing emotional intelligence beyond her age, qualities that help Leah to shed her grief and guilt. But as Leah learns that Jasper has a past she wants to leave behind as well, she grapples with how to protect her friend while keeping her secrets. Snyder tackles heavy topics (death and grief, abuse and homelessness) straightforwardly in this coming-of-age story. Her adept characterization of Jasper, whose hope and sincerity are palpable, offers buoyancy, and the joyful, almost ethereal friendship the two girls form is refreshingly and intensely honest. Snyder maintains a languid, unhurried pace that evokes the lazy days of summer and crescendos in a meaningful, bittersweet ending. A candid story about two teens who find solace and strength in each other. Ages 8-12. Agent: Tina Dubois, ICM Partners. (Sept.) © Copyright PWxyz, LLC. All rights reserved."
(c) Copyright PWxyz, LLC. All rights reserved
Additional Information