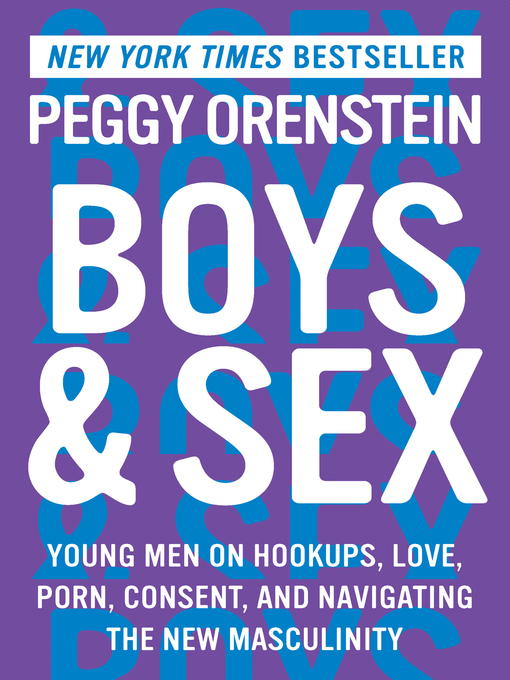 Boys & sex young men on hookups, love, porn, consent, and navigating the new masculinity
Format:

Kindle Book

2020

2020

Adobe EPUB ebook

OverDrive Read

Availability:

Available from OverDrive

4 of 4 copies
Summary
"Peggy Orenstein's Girls & Sex broke ground, shattered taboos, and galvanized conversations about young women's right to pleasure and agency in sexual encounters. It also had an unintended effect on its author: Orenstein realized that talking about girls is only half the conversation. To understand girls and sex, we also need to talk about boys and sex. Today's young men are subject to the same cultural forces as their female peers. They are steeped in the distorted media images and binary stereotypes of female sexiness and toxic masculinity which shape how they, too, navigate sexual and emotional relationships. In Boys & Sex, Orenstein uses the same fascinating mix of anecdote and research to reveal how young men understand and negotiate the new rules of physical and emotional intimacy. Drawing on comprehensive interviews with young men, psychologists, academics, and experts in the field, Orenstein takes an unprecedented look at the myriad factors that are shaping boys' ideas of sex, girls, and masculinity including: locker room talk how the word "hilarious" robs boys of empathy pornography as the new sex education hookup culture and consent Bro culture and #metoo excessive drinking and frat parties boys' experience as victims and perpetrators of sexual violence By exploring the complexity of young men's attitudes, beliefs, and experiences, Orenstein unravels the hidden truths, hard lessons, and important realities of boys' sex lives today. The result is a provocative and paradigm-shifting work that offers a much-needed vision of how boys can truly move forward as better men"--

Contents
Introduction: What about the boys?
Welcome to dick school
If it exists, there is porn of it
Are you experienced? Life and love in a hookup culture
Get used to it: gay, trans, and queer guys
Heads you lose, tails I win: boys of color in a white world
I know I'm a good guy, but...
All guys want it. Don't they?
A better man
Deep breath: talking to boys.
Published Reviews
Publisher's Weekly Review:
"Journalist Orenstein (Girls & Sex) talks with high school-- and college-age boys and men about sex in this candid and fascinating portrait of young American masculinity. Conducting more than 100 interviews with males ages 16--22 throughout America, Orenstein shares a narrative of "toxic masculinity"--exemplified by emotional suppression, casual homophobia, and bragging about sexual conquests--and unveils a "historically unprecedented" availability--and habitual watching--of porn, with boys beginning to watch it as early as sixth grade. The damaging effects of this trend are reflected in misconceptions about women, and also result in boys who are unprepared for real-life relationships. Orenstein's scope is wide, as she delves into the lives of gay and transgender boys and men and interviews young black men at predominantly white schools who stringently follow the rules of "consent," wary of severe punishment for any hint of improper behavior. Among other conclusions, the author demands that parents "get over it" and talk openly with their kids about sex and intimacy. The #MeToo movement, she asserts, is not only a chance for girls to expose sexual misconduct, but also an opportunity to raise boys up to be compassionate, responsible men. Expertly written and sometimes disturbing, but always informative, Orenstein's latest is a valuable reference for parents of teenage boys and young men. (Jan.)"
(c) Copyright PWxyz, LLC. All rights reserved
Additional Information