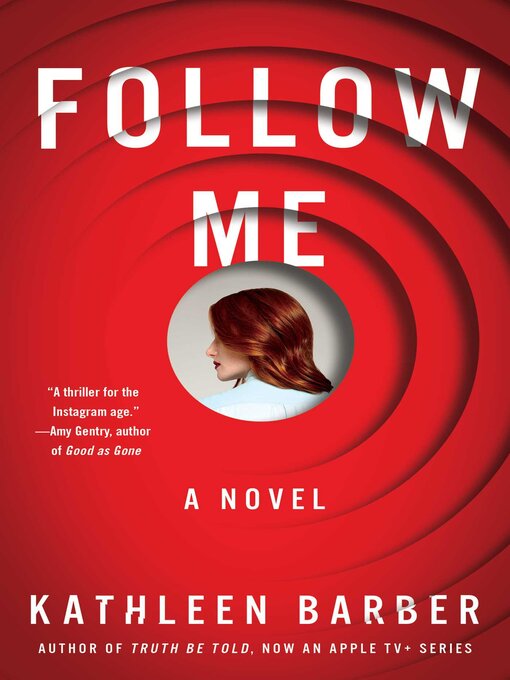 Follow me
Format:

Kindle Book

2020

2020

Adobe EPUB ebook

OverDrive Read

Availability:

Available from OverDrive

2 of 2 copies
1 person on waitlist
Summary
"From the author of Are You Sleeping-soon to be an Apple TV series-comes a cautionary tale of oversharing in the social media age for fans of Jessica Knoll and Caroline Kepnes's You"--

Contents
Intro
Title Page
Dedication
Author's Note
Prologue: Him
Chapter One: Audrey
Chapter Two: Cat
Chapter Three: Audrey
Chapter Four: Cat
Chapter Five: Audrey
Chapter Six: Cat
Chapter Seven: Him
Chapter Eight: Audrey
Chapter Nine: Audrey
Chapter Ten: Him
Chapter Eleven: Cat
Chapter Twelve: Audrey
Chapter Thirteen: Him
Chapter Fourteen: Audrey
Chapter Fifteen: Him
Chapter Sixteen: Cat
Chapter Seventeen: Audrey
Chapter Eighteen: Cat
Chapter Nineteen: Him
Chapter Twenty: Audrey
Chapter Twenty-One: Cat Chapter Twenty-Two: Audrey
Chapter Twenty-Three: Audrey
Chapter Twenty-Four: Him
Chapter Twenty-Five: Cat
Chapter Twenty-Six: Audrey
Chapter Twenty-Seven: Him
Chapter Twenty-Eight: Cat
Chapter Twenty-Nine: Him
Chapter Thirty: Audrey
Chapter Thirty-One: Cat
Chapter Thirty-Two: Audrey
Chapter Thirty-Three: Audrey
Chapter Thirty-Four: Audrey
Chapter Thirty-Five: Cat
Chapter Thirty-Six: Audrey
Chapter Thirty-Seven: Audrey
Chapter Thirty-Eight: Him
Chapter Thirty-Nine: Cat
Chapter Forty: Audrey
Chapter Forty-One: Him
Chapter Forty-Two: Audrey Chapter Forty-Three: Audrey
Chapter Forty-Four: Cat
Chapter Forty-Five: Him
Chapter Forty-Six: Audrey
Chapter Forty-Seven: Audrey
Chapter Forty-Eight: Him
Chapter Forty-Nine: Audrey
Chapter Fifty: Cat
Chapter Fifty-One: Audrey
Chapter Fifty-Two: Cat
Chapter Fifty-Three: Audrey
Chapter Fifty-Four: Him
Chapter Fifty-Five: Cat
Chapter Fifty-Six: Audrey
Chapter Fifty-Seven: Max
Chapter Fifty-Eight: Cat
Chapter Fifty-Nine: Audrey
Chapter Sixty: Max
Acknowledgments
About the Author
Copyright
Published Reviews
Booklist Review:
"Barber delivers a second social-media themed thriller following Are You Sleeping (2017). Audrey Miller, a well-established social-media presence who details her perfectly curated, perfectly aesthetic life out of a pathological need to share every facet of her existence, lands an enviable job at the Smithsonian. Along with various problems posed by the faulty locks on the door of her Peeping Tom-enabling basement apartment, her landlady's dysfunctional son, a grabby coworker, and a creepy stalker at the museum, she falls prey to an online ratter"" (high-tech voyeur), who is asphyxiated by love for her. Audrey is largely a victim of her own making, a young woman fueled by digital hyperconnectivity. When the college-admissions scandal broke, we learned that Lori Loughlin's daughter was an Instagram influencer. Readers who had to look up what an ""influencer is will not fancy this book. On the other hand, soul-cycling, Pilates-perfected, media-savvy readers will devour it. Barber's narrative, like social media itself, is as addictive as it is disturbing.--Jane Murphy Copyright 2020 Booklist"
From Booklist, Copyright (c) American Library Association. Used with permission.
Publisher's Weekly Review:
"Social media star Audrey, the vivacious narrator of Barber's so-so sophomore outing (after 2017's Are You Sleeping), revels in the attention she receives from her stream of Instagram updates to her legion of followers. Though most admirers simply offer their thoughts about Audrey's photos, one fan wants far more from her. When Audrey posts that she's leaving New York City for an exciting job in Washington, D.C., as a social media manager, her stalker is delighted: Audrey is now within his reach. Audrey dazzles everyone she encounters in D.C., including her boss and Cat, the socially awkward college friend she reconnects with. The drawbacks of her new life--a dark basement apartment and a creepy upstairs neighbor--are small irritants, but they make good fodder for her posts. But when her apartment is trashed and she finds frightening photos of herself on a friend's computer, Audrey's nightmare has just begun, because her stalker knows every move she makes. The outcome will surprise no one. The fast-paced and au courant plot compensates in part for the stock characters and unlikely coincidences. As Barber's first thriller showed, she's capable of better. Agent: Lisa Grubka, Fletcher & Co. (Feb.)"
(c) Copyright PWxyz, LLC. All rights reserved
Additional Information