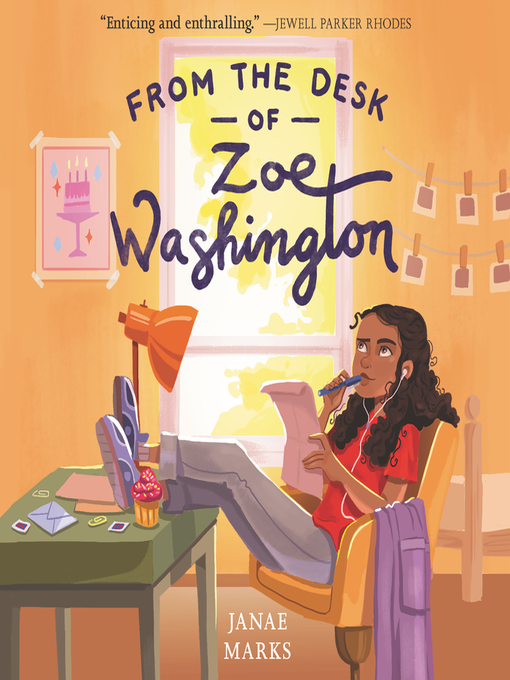 From the desk of Zoe Washington
Format:

OverDrive MP3 Audiobook

2020

2020

OverDrive Listen

Availability:

Available from OverDrive

2 of 5 copies
Summary
From debut author Janae Marks comes a captivating mystery full of heart, as one courageous girl questions assumptions, searches for the truth, and does what she believes is right--even in the face of great opposition. A perfect book for fans of Front Desk and All Rise for the Honorable Perry T. Cook! Zoe Washington isn't sure what to write. What does a girl say to the father she's never met, hadn't heard from until his letter arrived on her twelfth birthday, and who's been in prison for a terrible crime--a crime he says he never committed. Could Marcus really be innocent? Zoe is determined to uncover the truth. Even if it means hiding his letters and her investigation from the rest of her family. Everyone else thinks Zoe's worrying about doing a good job at her bakery internship and proving to her parents that she's worthy of auditioning for Food Network's Kids Bake Challenge. But with bakery confections on one part of her mind, and Marcus's conviction weighing heavily on the other, this is one recipe Zoe doesn't know how to balance. The only thing she knows to be true: Everyone lies.

Published Reviews
Booklist Review:
"This exceptionally sweet debut from Marks illustrates profound cracks in the American criminal justice system while telling an affecting story grounded in the middle-grade experience. Zoe Washington, a soon-to-be seventh-grader growing up outside Boston, is celebrating a birthday bereft of friends due to distance and betrayal, when a surprise letter from her incarcerated father arrives and throws her life into emotional disarray. The clandestine correspondence they strike up, letters and a few phone calls facilitated by her maternal grandmother, has to be kept a secret from her mother, especially once Zoe decides to investigate whether her father is truly guilty of the dreadful crime that sent him to prison before she was born. Marks tells this story of forgiveness and redemption in a way that will make sense to tween readers without being patronizing or overly complicated. The troubling ways race affects the characters Zoe, who is Black, is subjected to microaggressions when out in public with her white stepfather and Black mother, and she questions whether her father would have been treated differently if he looked less like a typical suspect will facilitate important conversations about racial profiling and incarceration rates for people of color. Fortunately, Marks' capable storytelling and engaging characters also combine into a wondrous confection of a book, full of heart and hope and promise.--Shaunterria Owens Copyright 2019 Booklist"
From Booklist, Copyright (c) American Library Association. Used with permission.
Publisher's Weekly Review:
"On her 12th birthday, Zoe Washington receives a letter from Marcus, the biological father she's never met, who has been serving time for murder since just before Zoe's birth. Zoe's mother and stepfather don't want her in touch with Marcus, but Zoe, curious, strikes up a correspondence with the help of her maternal grandmother, who believes Marcus to be "a good person at heart." Aspiring pastry chef Zoe grows busy as she makes up with her best friend Trevor, writes to Marcus, and interns at a family friend's bakery, where she hopes to prove to her parents that she could compete on Food Network's Kids Bake Challenge. When Marcus tells Zoe he is innocent, and her grandmother agrees, Zoe begins to learn about inequality in the criminal justice system, and she and Trevor set out to find the alibi witness who can prove his innocence. Debut author Marks seamlessly weaves timely discussions about institutionalized racism into this uplifting and engaging story that packs an emotional punch. Zoe is a relatable tween, with friendship and familial frustrations that will resonate with readers. Ages 8--12. Agent: Alexander Slater, Trident Media Group. (Jan.)"
(c) Copyright PWxyz, LLC. All rights reserved
Additional Information