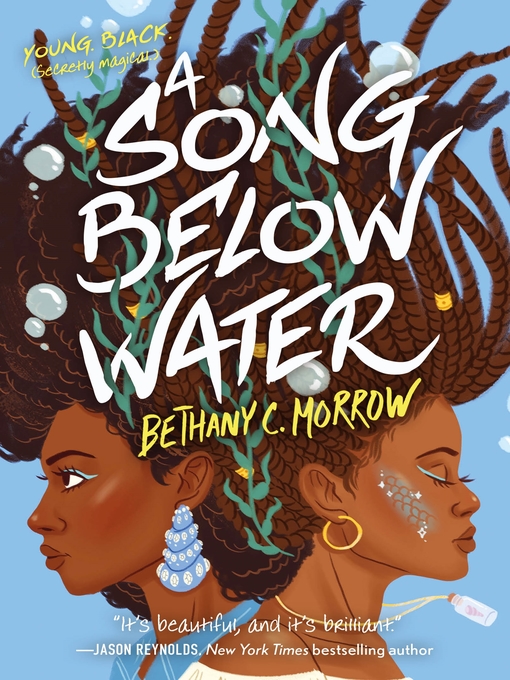 A song below water A Novel
Format:

Kindle Book

2020

2020

Adobe EPUB ebook

OverDrive Read

Availability:

Unavailable

0 of 6 copies
12 people on waitlist
Summary
Bethany C. Morrow's A Song Below Water is the story for today{u2019}s readers {u2014} a captivating modern fantasy about black mermaids, friendship, and self-discovery set against the challenges of today's racism and sexism. In a society determined to keep her under lock and key, Tavia must hide her siren powers. Meanwhile, Effie is fighting her own family struggles, pitted against literal demons from her past. Together, these best friends must navigate through the perils of high school{u2019}s junior year. But everything changes in the aftermath of a siren murder trial that rocks the nation, and Tavia accidentally lets out her magical voice at the worst possible moment. Soon, nothing in Portland, Oregon, seems safe. To save themselves from drowning, it{u2019}s only Tavia and Effie{u2019}s unbreakable sisterhood that proves to be the strongest magic of all. An enthralling tale of black girl magic and searing social commentary ready to rattle the bones. {u2014} Dhonielle Clayton, New York Times bestselling author of The Belles At the Publisher's request, this title is being sold without Digital Rights Management Software (DRM) applied

Published Reviews
Booklist Review:
"It's not often that Black girls get to be magical, but Morrow's fascinating, sweeping story gives readers two: Tavia and Effie. Tavia is disillusioned and cynical toward the world that wants to keep both facets of her identity oppressed; she grapples with hatred and prejudice because she is Black and because she is a siren. Living in Portland, Oregon, where Black folks of the magical and nonmagical sort are sparse, exacerbates this struggle. Tavia's best friend Effie appears to be normal, but she's experiencing weird puberty symptoms and is the single survivor of an accident that turned her schoolmates to stone when she was little. When Effie's past refuses to stay buried and Tavia's siren magic slips free during an altercation with the police, the friends' lives are turned upside down. They must learn to exist, find peace and happiness, and stay safe in a world that suffers little love for Black people and even less for the magical. Morrow expertly and smartly explores race, bigotry, oppression, and injustice against a backdrop of ordinary life with a dose of the supernatural added to the mix. A Song Below Water is a must-read for lovers of fantasy and contemporary stories alike."
From Booklist, Copyright (c) American Library Association. Used with permission.
Publisher's Weekly Review:
"Play-sisters Tavia and Effie are both black Portland, Ore., teens with secrets. Tavia, who is selectively nonverbal, is a siren in a world that persecutes sirens and seeks to silence their mythic voices. Effie, who plays a mermaid at Renaissance fairs, doesn't know what brand of mythical creature she is, only that she's changing day by day. When the murder of a recently slain black girl is tacitly justified by rumor that she may have been a siren, Tavia's heavily insulated world is turned upside down, with Effie as her only constant. And as Effie's inexplicable abilities grow, the world outside becomes increasingly dangerous for the girls, whose secrets cannot remain so forever. In this thought-provoking YA debut, Morrow (Mem, for adults) excels at grounding her fantastical reimagining of the modern world through depictions of marginalized experiences: social justice takes on fantastic proportions in a society occupied by gargoyles, sirens, sprites, and elokos, all occupying differing public statuses of reverence and fear. Though uneven pacing and an excess of dropped subplots congest the book's first half, this triumph of black sisterhood and female resilience is sure to draw readers. Ages 13--up. Agent: Victoria Marini, Irene Goodman Agency. (June)"
(c) Copyright PWxyz, LLC. All rights reserved
Additional Information