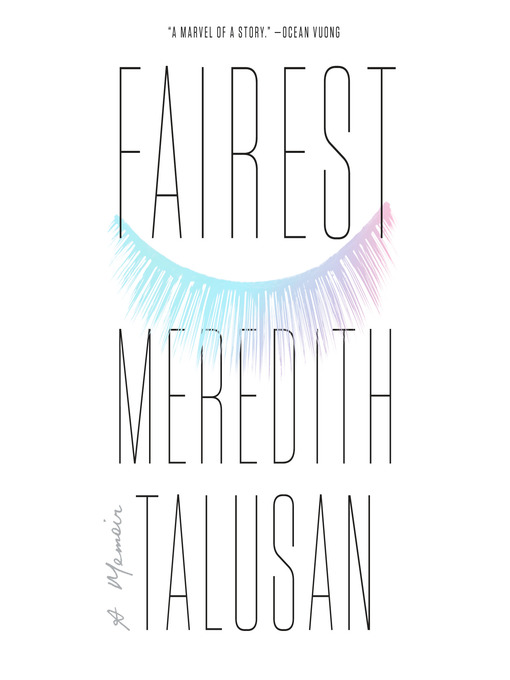 Fairest a memoir
Format:

OverDrive MP3 Audiobook

2020

2020

OverDrive Listen

Availability:

Unavailable

0 of 1 copy
1 person on waitlist
Summary
"A heartrending immigrant memoir and a uniquely intersectional coming-of-age story of a life lived in duality and the in-between, and how one navigates through race, gender, and the search for love"--

Published Reviews
Booklist Review:
"At 15, the author, born an albino Filipino, descendant of peasant farmers, immigrated to the U.S., where she was perceived as being white. Academically gifted, she went to Harvard, where she came out, and, some years later, after going to work at MIT, completed her transition to being a transgender woman. This is her coming-of-age story, which moves backward and forward in time, from being the grandchild of a doting grandmother who regards her as beautiful and promises her a better future, to growing up the offspring of woefully neglectful parents; from a childhood crush on her best friend to a life-enriching love with an older man. Her carefully detailed story is notable for its introspection ("I liked being alone with my thoughts") and emotional depth. The account of her earlier life as a man and her decision to become a woman--including reassignment surgery--is psychologically acute, enlightening, and occasionally heartbreaking as her decision to transition spelled the end of her relationship with the man she loved. Fairest is a welcome addition to transgender literature."
From Booklist, Copyright (c) American Library Association. Used with permission.
Publisher's Weekly Review:
"Talusan, a founding executive editor of Them, Condé Nast's LGBTQ online magazine, who was born as an albino boy in the Philippines, relays her "journey across gender" in an assured debut memoir with a cinematic flair. Talusan discusses growing up as a blond-haired oddity with "weak eyes" in the Philippines in the 1970s and '80s, and of feeling shame for liking boys. She writes with distance about her "derelict" parents--father was absent, mother was a gambler--who in 1990 brought her to the U.S., where "white people thought I was white" and where it was "to my benefit to seem white too." Talusan attended Harvard, where she came out as gay and began exploring drag and her desire to transition. She addresses her sex life, including going to a bathhouse and hooking up with men through personal ads, and talks heartbreakingly of being in a relationship with someone who loved her as a man but not as a woman. Talusan had gender reassignment surgery in Thailand in 2002, but the narrative jumps over the procedure itself; rather, it's about the process of coming into one's own and of gaining "freedom of expression" through gender transition. This elegant memoir examining whiteness, womanhood, and the shaping of identity will resonate with readers of any community, LGBTQ or not. (May)"
(c) Copyright PWxyz, LLC. All rights reserved
Additional Information