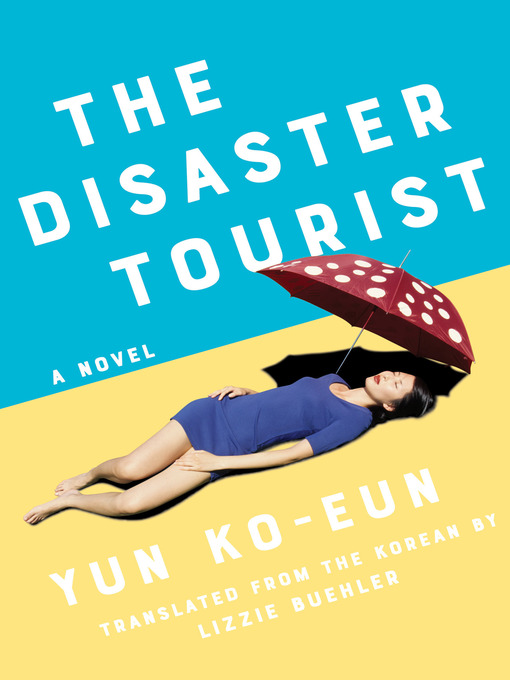 The disaster tourist a novel
Format:

Kindle Book

2020

2020

Adobe EPUB ebook

OverDrive Read

Availability:

Available from OverDrive

3 of 3 copies
Summary
"An eco-thriller with a fierce feminist sensibility, The Disaster Tourist engages with the global dialog around climate activism, dark tourism, and the #MeToo movement. For ten years, Yona has been stuck behind a desk as a coordinator for Jungle, a travel company specializing in vacation packages to destinations devastated by disaster and climate change. Her work life is uneventful until trouble arises in the form of a predatory colleague. To forestall any disruption of business-as-usual, Jungle makes Yona a proposition: a paid "vacation" to the desert island of Mui. But Yona must pose as a tourist and assess whether Jungle should continue their partnership with the unprofitable destination. Yona travels to the remote island, whose major attraction is an underwhelming sinkhole, a huge disappointment to the customers who've paid a premium. Soon Yona discovers the resort's plan to fabricate a catastrophe in the interest of regaining their good standing with Jungle--and the manager enlists Yona's help. Yona must choose between the callous company to whom she's dedicated her life, or the possibility of a fresh start in a powerful new position. As she begins to understand the cost of the manufactured disaster, Yona realizes that the lives of Mui's citizens are in danger--and so is she. In The Disaster Tourist, Korean author Yun Ko-eun grapples with the consequences of our fascination with disaster, and questions an individual's culpability in the harm done by their industry"--Goodreads.com.

Published Reviews
Booklist Review:
"Yona is an employee of Jungle, a South Korean company that arranges expensive tours and vacation packages to areas ravaged by such disasters as droughts, typhoons, tsunamis, avalanches, and earthquakes. Despite her 10-year employment at Jungle, 33-year old Yona is not impervious to sexual harassment and endures multiple abuses at the hands of her supervisor. To avoid her resignation, the company offers her an all-expense-paid trip to one of their fledgling vacation destinations. She agrees to go as an evaluator and joins four vacationers traveling to Mui, an island off the coast of Vietnam. Not only is the destination spot managed poorly, the featured attraction is a lackluster sinkhole. Yona uncovers the resort's intricate and risky plan to, unbeknownst to Jungle, engineer a bigger sinkhole featuring fake casualties to be captured on video with dramatic aplomb. As Yona becomes entangled in the mesh of reality and a manufactured catastrophe, her situation quickly spins out of control. Ko-Eun's ecothriller skillfully explores the intertwined themes of tourism, livelihood, greed, and the value of human life."
From Booklist, Copyright (c) American Library Association. Used with permission.
Publisher's Weekly Review:
"South Korean author Yun's spare but provocative novel (after the collection Table for One) offers perceptive satire laced with disconcerting imagery. In her mid-30s, Yona Ko has devoted the last decade of her life to her employer, Jungle, which offers package tours to areas of the world ravaged by disasters, from hurricanes to nuclear meltdowns. After being sexually assaulted by her boss and assigned to a new role, Yona suspects she's being pushed out of the company. On the verge of quitting, she's given a new opportunity: evaluate the disaster ecosystem on a Vietnamese island (a sinkhole, a volcano) and determine whether the destination should be kept in Jungle's portfolio. Upon arriving, Yona soon realizes that the island's power brokers are aware that their tourist income is imperiled, and she is appalled when an investor tells her of a plan to engineer a sinkhole during a village festival that would kill at least 100 people, after which they would use international aid for urban redevelopment. In Yona's increasingly bizarre encounters, she learns just how severe the local environmental degradation is and the frightening extent of corporate greed. Yun cleverly combines absurdity with legitimate horror and mounting dread. With its arresting, nightmarish island scenario, this work speaks volumes about the human cost of tourism in developing countries. (Aug.)"
(c) Copyright PWxyz, LLC. All rights reserved
Additional Information