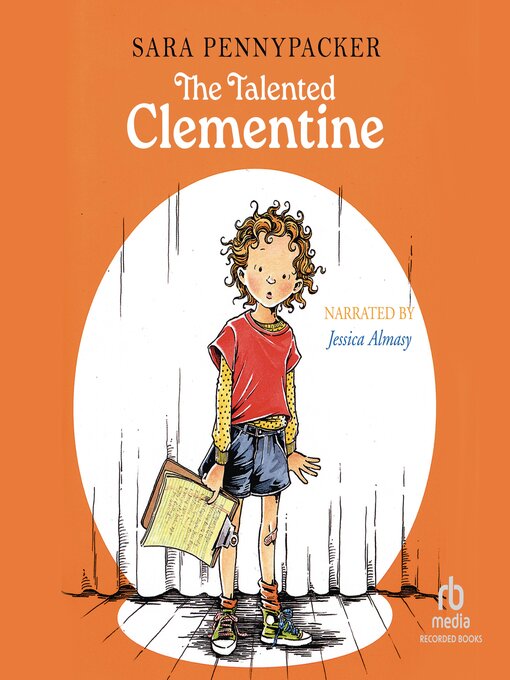 The talented Clementine
Format:

OverDrive MP3 Audiobook

2008

2008

OverDrive Listen

Availability:

Available from OverDrive

1 of 1 copy
Summary
Eight-year-old Clementine, convinced that she has no talents, tries to find a way to avoid participating in the class talent show.

Published Reviews
Booklist Review:
"Recommenders hoping to turn indifferent readers into voracious ones often reach first for solid, funny chapter-book series; this follow-up to Clementine (2006) proves that Pennypacker's deserves a place alongside those by Johanna Hurwitz, Beverly Cleary, and Megan MacDonald. Here, Clementine frets over her own role in the school talent show, while friend-enemy Margaret flaunts umpteen stage-ready skills. Sure, a child's inability to recognize her own astoundishing gifts is a familiar plotline, and some readers may long for a flashier area for observant, insightful Clementine to shine than is ultimately revealed (she is retroactively hailed as the show's director). But children will see their own experiences and foibles in Clementine's precise observations, such as this zinger regarding grown-ups' habit of proffering reference books instead of answering questions: And then suddenly I did not want to know! That is the miracle of dictionaries! Frazee's polished, warm-spirited line drawings, not all seen, capture the endearing idiosyncrasies of its heroine, who will equally charm returning readers and those meeting her for the first time. --Jennifer Mattson Copyright 2007 Booklist"
From Booklist, Copyright (c) American Library Association. Used with permission.
Publisher's Weekly Review:
"The Talented Clementine by Sara Pennypacker, illus. by Marla Frazee, brings back the third-grader that made such a splash in last season's Clementine (in our Best Books citation, PW called her "an eight-year-old whose spirit rivals Ramona and Judy Moody"). Here her teacher's announcement of a school talent show sends the heroine into a tizzy. (Hyperion, $14.99 144p ages 7-10 ISBN 978-0-7868-3870-7; Apr.) (c) Copyright PWxyz, LLC. All rights reserved"
(c) Copyright PWxyz, LLC. All rights reserved
Additional Information