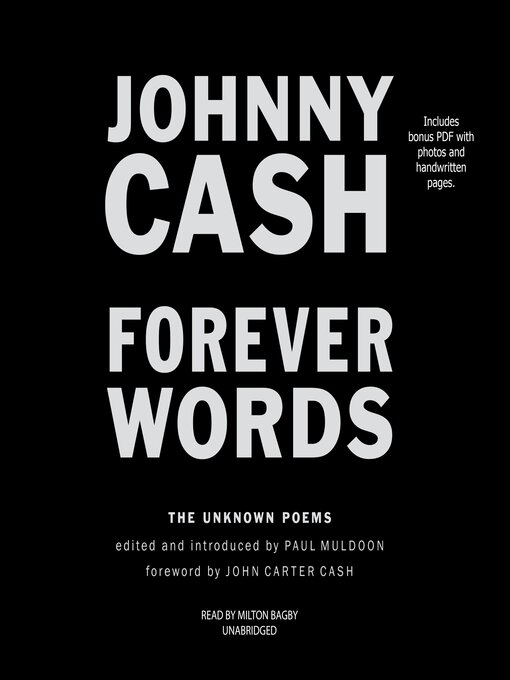 Forever words the unknown poems
Format:

OverDrive MP3 Audiobook

2018

2018

OverDrive Listen

Availability:

Available from OverDrive

1 of 1 copy
Summary
Present a collection of previously unpublished poems and lyrics by the legendary music icon that is complemented by original handwritten documents sharing insights into his observations about culture, family, fame, freedom, mortality and Christmas.

Contents
Redemptions / by June Carter Cash
Ballad of Johnny Capman
Big-hearted girl
Body on body
California poem
The captain's daughter
Chinky Pin Hill
Crowley's Ridge
Dark and bloody ground
Does anybody out there love me?
The dogs are in the woods
Don't make a movie about me
Don't take your gun to town
Forever
Going, going, gone (version 2)
Gold all over the ground
Gold in Alaska
He bore it all for me
Hey, baby, wake up
I have been around (version 2)
I heard on the news
I wish you a Merry Christmas
If you love me
I'll still love you
I'm comin', honey
Jellico coal man
Job
Let's put it to music
Lost my money in a buffalo track
Muscadine wine
My song
Room 1702
Silk and denim
Slumgullion
Spirit rider
Tecumseh
Tenderfoot from the city
The things we're frightened at
The walking wounded
What would I dreamer do
Who's gonna grease my skillet?
You never knew my mind.
Additional Information