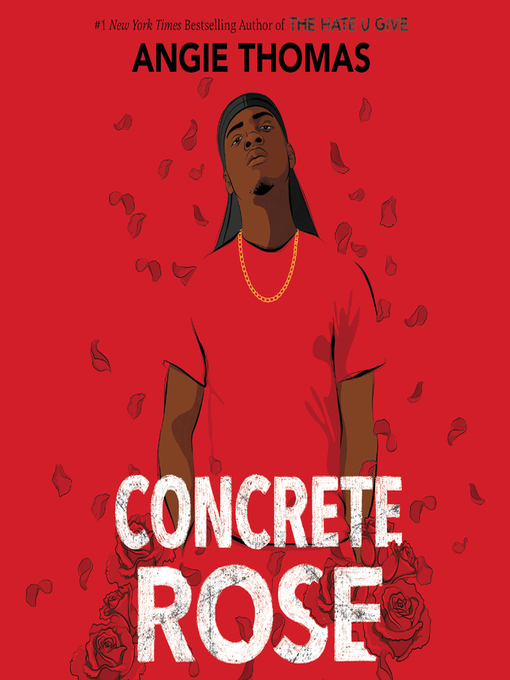 Concrete rose
Format:

OverDrive MP3 Audiobook

2021

2021

OverDrive Listen

Availability:

Available from OverDrive

24 of 25 copies
Summary
Maverick feels strongly about family ties, making choices he feels necessary to help support his mom while his King father serves time, and leave him literally holding his son in a doctor's waiting room after he gets paternity test results back and his babymomma ghosts. Now the child he's raising is impacting the lives of his family and his girlfriend, and the gang life he led to support them all financially could leave them all bearing his responsibilities since it endangers his life. It looks like he may have been offered a chance to go straight, but leaving the King Lords won't be easy, and a "real" job has high demand for low return.

Published Reviews
Booklist Review:
"Thomas delivers a poignant prequel to The Hate U Give (2017) with Concrete Rose, set 17 years prior. Seventeen-year-old Maverick Carter is the son of a former gang member who, nevertheless, follows the same path, selling drugs for the King Lords to help his mom with bills while his dad is in jail. He thinks he has everything figured out until fatherhood stares him in the face in the form of baby Seven. Maverick comes to realize that there's so much more to life that can be lost now that Seven needs him. Then, someone close to Maverick is murdered, leaving him with more hard choices to make. He must define duty, family, and loyalty for himself and figure out if he will--or even can-- leave gang life for good. Thomas already delivered a dynamic, rich character with Maverick as Star's father in The Hate You Give (THUG). This insightful novel lets readers see Maverick as a teen himself and walk a mile in his shoes, before and during his evolution into the man, father, and husband that he is in THUG. Maverick's story is one that offers hope, encouragement, and optimism, and it shows those going through difficult times of their own that they can take control of their own destiny.HIGH-DEMAND BACKSTORY: THUG fans--and there are a lot--will relish the chance to dig into Maverick's teenage experiences and meet Thomas at one of her many virtual events."
From Booklist, Copyright (c) American Library Association. Used with permission.
Publisher's Weekly Review:
"In this prequel to The Hate U Give, Thomas delves into the upbringing of Maverick Carter, the father of THUG's protagonist, Starr. Mav is one of the subordinates ("li'l homies") of neighborhood gang the King Lords and the son of one of the gang's incarcerated OGs. At 17, Mav and his hotheaded best friend, King--both responsible for recruiting and initiating new members and dealing weed for the King Lords--have begun slinging harder drugs on the side, under the gang leaders' noses. Risking hard time like his father or death like King's dad by leading a double life, Mav soon finds himself in over his head when he discovers he's fathered a child by King's off-and-on girlfriend, who promptly abandons the baby to his care. Convincingly detailing the journey of a young Black man growing into fatherhood, Thomas brings her trademark wit, nostalgic love of the 1990s and all things R&B and hip-hop, and her penchant for heartfelt characterization to this first-person exploration of Maverick Carter's coming-of- age. Through its portrayal of loss and upheaval, this story acts as a tender love letter to a close Black family and community--one that isn't without problems but is always full of love. Ages 14--up. Agent: Brooks Sherman, Janklow & Nesbit Assoc. (Jan.)"
(c) Copyright PWxyz, LLC. All rights reserved
Additional Information