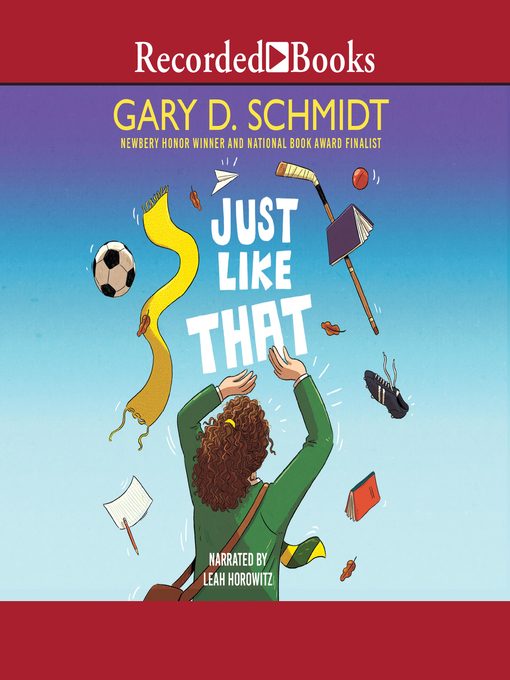 Just like that
Format:

OverDrive MP3 Audiobook

2021

2021

OverDrive Listen

Availability:

Available from OverDrive

1 of 1 copy
Summary
Meryl Lee Kowalski arrives at a Maine boarding school, haunted by personal loss. Matt Coffin hides out on the coast, attempting toevade a violent criminal. As war rages overseas and young people at home demand change, Meryl Lee and Matt begin to face theirdemons and make fresh choices—singly, together, and with the help of unexpected friends. Set in the 1960s in the world of Gary D. Schmidt's award-winning novels The Wednesday Wars and Okay for Now, this timeless story of grief, growth, and change is full of heart and humor.

Published Reviews
Booklist Review:
"It's the summer of 1968. The accidental death of a dear friend has blindsided Meryl Lee, and grief still overwhelms her at times. Unable to face her old school for eighth grade, she enrolls at St. Elene's Preparatory Academy in Maine, where she initially feels isolated from her pretentious roommate and other classmates. From the start, she's intrigued by the strong, enigmatic headmistress, Dr. MacKnockater, who seems to understand so much and whose opening address unexpectedly mesmerizes and challenges Meryl Lee. Slowly, she begins to find her way and tentatively makes friends while navigating boarding-school life under the watchful eyes of her inscrutable teachers. Meanwhile, Matt has arrived in the area. A good-hearted, vulnerable boy on the run from his sometimes-violent past, he's befriended by Dr. MacKnockater, who takes him in and gradually gains his trust. The Vietnam War isn't just the story's backdrop, but an inescapable, unsettling element of the times, painfully affecting several characters. The well-phrased writing is understated, endlessly engaging, and sometimes suspenseful or amusing. While fans of Schmidt's The Wednesday Wars (2007) and Lizzie Bright and the Buckminster Boy (2004) will find links to both stories here, this well-constructed novel, with its beautifully interwoven strands of narrative, stands on its own. An unforgettable story of loss, healing, and finding one's way."
From Booklist, Copyright (c) American Library Association. Used with permission.
Publisher's Weekly Review:
"In 1968, the summer before her eighth grade year, Meryl Lee Kowalski's best friend dies suddenly, and Meryl Lee becomes enveloped in grief and depression--which she calls "the Blank"--on Long Island. To give her a new start, her parents enroll her in a girls' prep school on the coast of Maine; the headmistress, Dr. MacKnockater, promises to help Meryl Lee become "accomplished." As the school year progresses and she fends off the encroaching Blank, Meryl Lee also faces classist teachers and snobby classmates while discovering a social conscience around the treatment of the school's kitchen staff. A secondary arc follows Matt Coffin, whom Dr. MacKnockater finds living in an oceanside shack and whose dark past is never far behind. The heaviness of Matt's story line at times eclipses Meryl Lee's, but episodes of slapstick humor, told in Schmidt's (Pay Attention, Carter Jones) trademark wry deadpan, are woven throughout (a disastrous formal luncheon hosting Vice-President Spiro Agnew is a standout). Though overlong and occasionally plodding, Schmidt's rich, humane tale rewards persistent readers with moments of hilarity and heartache in a skillfully rendered Vietnam War--era boarding school setting. Ages 10--up. (Jan.)"
(c) Copyright PWxyz, LLC. All rights reserved
Additional Information