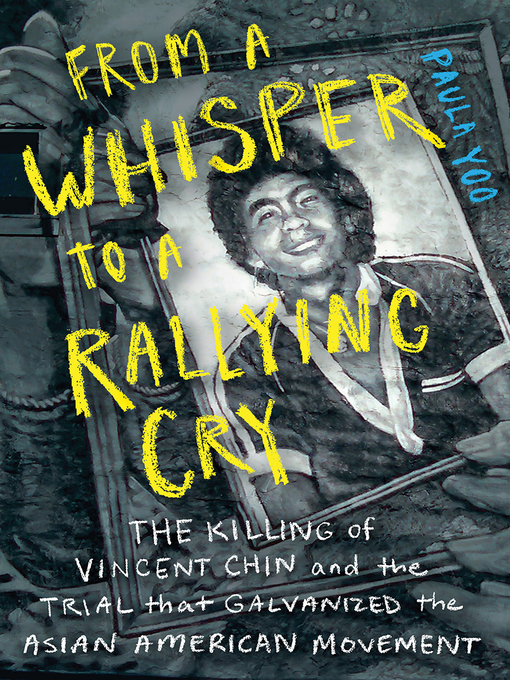 From a whisper to a rallying cry the killing of Vincent Chin and the trial that galvanized the Asian American movement
Format:

Kindle Book

2021

2021

Adobe EPUB ebook

OverDrive Read

Availability:

Available from OverDrive

1 of 1 copy
Summary
"A groundbreaking portrait of Vincent Chin and the murder case that took America's Asian American community to the streets in protest of injustice. America in 1982. Japanese car companies are on the rise and believed to be putting American autoworkers out of their jobs. Anti-Asian American sentiments simmer, especially in Detroit. A bar fight turns fatal, leaving Vincent Chin-a Chinese American man-beaten to death at the hands of two white men, autoworker Ronald Ebens and his stepson Michael Nitz. From a Whisper to a Rallying Cry is a searing examination of the killing and the trial and verdicts that followed. When Ebens and Nitz pled guilty to manslaughter and received only a $3,000 fine and three years' probation, the lenient sentence sparked outrage in the Asian American community. This outrage galvanized the Asian American movement and paved the way for a new federal civil rights trial of the case. Extensively researched from court transcripts and interviews with key case witnesses-many speaking for the first time-Yoo has crafted a suspenseful, nuanced, and authoritative portrait of a pivotal moment in civil rights history, and a man who became a symbol against hatred and racism"--

Contents
"You don't know about Vincent Chin?
Part I: The last time. One last night out with the guys ; Murder city ; Mama is here ; Father's Day ; As long as we have each other ; The little yellow people ; They keep their history very quiet
Part II: It's not fair. You make the punishment fit the criminal ; An Asian American dream deferred ; This is how far we've come in two hundred years? ; We must let the world know that we think this is wrong ; Are you gonna let him call you that?
Part III: Justice for Vincent Chin. The warrior ; American citizens for justice ; They will never be the same ; We dropped the ball ; A man of the law ; Time to talk about race ; Mrs. Chin goes to Washington ; In the spotlight
Part IV: United States v. Ronald Ebens and Michael Nitz. The defenders: Miriam Siefer and Frank Eaman ; The trailblazer: the honorable Anna Diggs Taylor ; The jury: "You must keep an open mind" ; The opening statements: The burden of proof ; The bachelor party: We are just here to have a good time ; The employees: It's because of you ; The cops; He shouldn't have done it ; The eyewitnesses: Government exhibit no. 14 ; The mother: My name is Lily Chin ; The stepson: It happened so quickly ; The father: Something just snapped ; The closing arguments: Your hardest part is still ahead ; The verdict: I can't bring him back ; In the shadows
Part V: Beyond a reasonable doubt. This case is not over ; We all remember our lines, okay? ; A very, very tough decision ; I really don't want to talk about it
Part VI: Remember me always. America breaks its promise to Lily Chin ; You never get over it ; Vincent's soul will never rest ; We need to talk about this
Published Reviews
Booklist Review:
"On June 19, 1982, Chinese American Victor Chin was murdered near Detroit, Michigan, when a drunken fist fight became a brutal beating with a baseball bat. There was no question as to who was responsible: Ronald Ebens--a white, Chrysler plant supervisor--and his grown stepson, Michael Nitz. The shock, apart from Chin's death itself, came when Ebens and Nitz were charged with manslaughter rather than murder, receiving no jailtime for their crime. Outrage swept the Asian American community. Yoo dives into this story, giving important historical context to the anti-Asian sentiments of the time while anchoring it in the experiences of those closest to Chin, most notably his mother, Lily. Yet, for all the personal touches, Yoo remains admirably objective in how she relays the various court cases that arose from Chin's murder, as well as their outcomes. She does not sanitize nor play up the story's more salacious details--a strip club, drinking, swearing, violence--and these things never overshadow the real issue on trial: Was Victor Chin's murder a hate crime? Chin's death united the Asian American community to stand against racism and fight for civil rights in unprecedented ways. In a compelling afterword, Yoo discusses the resurgence of anti-Asian attitudes and rhetoric in connection to COVID-19, reinforcing the book's through line that Chin mustn't be forgotten. Supported by robust source notes, news clippings, and photos."
From Booklist, Copyright (c) American Library Association. Used with permission.
Publisher's Weekly Review:
"In 1982 Detroit, anti--Asian American sentiment is on the rise as Japanese car companies are purported to threaten the livelihoods of U.S. autoworkers. After autoworker Ronald Ebens and his stepson Michael Nitz, both white, kill Chinese American Vincent Chin, they plead guilty to his manslaughter but are let off with a lenient sentence. Serving "as a wake-up call for Asian America," the incident spurs outrage--and action--in the Asian American community. Through in-person interviews, court transcripts, and present-day accounts, Yoo's YA nonfiction debut exhaustively details Chin's murder and carefully considers its resulting impact. Eyewitness accounts provide clarity, and detailed chronicling of the trials elicits justified frustration on the final verdict. In six well-structured parts, suspenseful narration illuminates Chin's personal life, his gruesome death, the trials' obstacles, and Chin's legacy; well-integrated news clippings and emotive photographs imbue events with a hard-hitting real-time feel. This resonant, painstakingly recreated historical account features a timely afterword spotlighting the rise in anti-AAPI violence amid the Covid-19 pandemic, drawing parallels between this haunting account of a 40-year-old crime to present-day atrocities. Back matter includes a timeline, notes, list of sources, and suggestions for further reading. Ages 14--up. Agent: Tricia Lawrence, Erin Murphy Literary. (Apr.)"
(c) Copyright PWxyz, LLC. All rights reserved
Additional Information