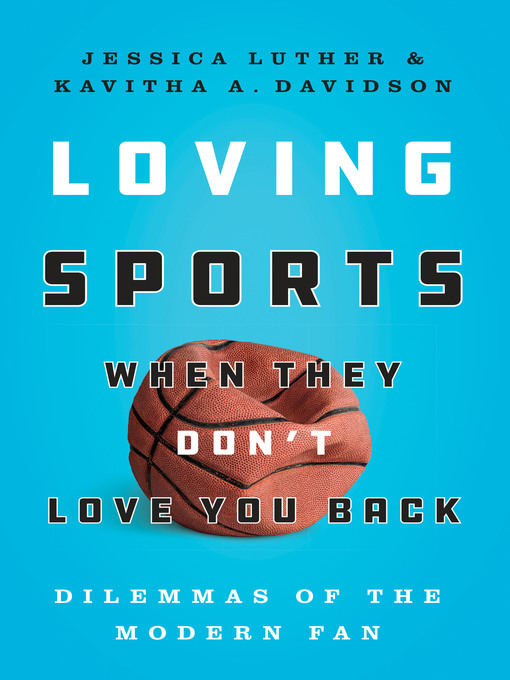 Loving sports when they don't love you back dilemmas of the modern fan
Format:

Kindle Book

2020

2020

Adobe EPUB ebook

OverDrive Read

Availability:

Available from OverDrive

1 of 1 copy
Summary
"Triumphant wins, gut-wrenching losses, last-second shots, underdogs, competition, and loyalty--it's fun to be a fan. But when a football player takes a hit to the head after yet another study has warned of the dangers of CTE, or when a team whose mascot was born in an era of racism and bigotry takes the field, or when a relief pitcher accused of domestic violence saves the game, how is one to cheer? Welcome to the club for sports fans who care too much. In Loving Sports When They Don't Love You Back, acclaimed sports writers Jessica Luther and Kavitha A. Davidson tackle the most pressing issues in sports, why they matter, and how we can do better. For the authors, "sticking to sports" is not an option--not when our taxes are paying for the stadiums, and college athletes aren't getting paid at all. But simply quitting a favorite team won't change corrupt and deplorable practices, and the root causes of many of these problems are endemic in our wider society. An essential read for modern fans, Loving Sports When They Don't Love You Back challenges the status quo and explores how we might begin to reconcile our conscience with our fandom"--

Contents
Watching football when we know (even a little) about CTE
Forgiving a doper
Cheering for a team with a racist mascot
Caring about tennis when it's a racist, sexist, and classist sport
Standing it when sports are so homophobic and transphobic
Why you should watch the WNBA even if no one dunks
Consuming sports media when you don't look like the people who are creating it
Rooting for your team when the star is accused of domestic violence
Loving your team and hate your owner
How I l learned to stop worrying and love baseball's free market
Watching March Madness when you know the athletes aren't getting paid
Going to a game in that brand new stadium you didn't want to pay for (but did anyway)
Loving the Olympics while hating what they do to communities
Embracing that athletes
and sports
are political.
Published Reviews
Publisher's Weekly Review:
"Sportswriters Luther (Unsportsmanlike Conduct) and Davidson offer a fascinating take on the myriad ethical issues facing sports fans today. From watching the NFL while knowing the damage concussions can wreak on players, navigating fandom while disliking a bigoted team owner, and cheering for teams with racist mascots, Luther and Davidson cut a wide swath. They offer stringent commentary on the dangers of capitalism running amok in cultural activities: "Sports are big business, and with that comes the dirtiness of any major moneymaking thing that holds cultural significance." Notable chapters include a discussion of the gender gap in CTE research ("female athletes report more concussions than their male counterparts and are suffering severe brain trauma, too") and coverage of the Spokane woman who led an attempt in the 1990s to make the University of Illinois drop its "Fightin' Illini" team name. Among the remedies they propose are having kids play flag football instead of full-contact to protect them from head injuries, and for sports organizations to be more open to hearing dissenting views and opinions. Meticulously researched, this is enlightening reading for the 21st-century sports fan. (Sept.)"
(c) Copyright PWxyz, LLC. All rights reserved
Additional Information