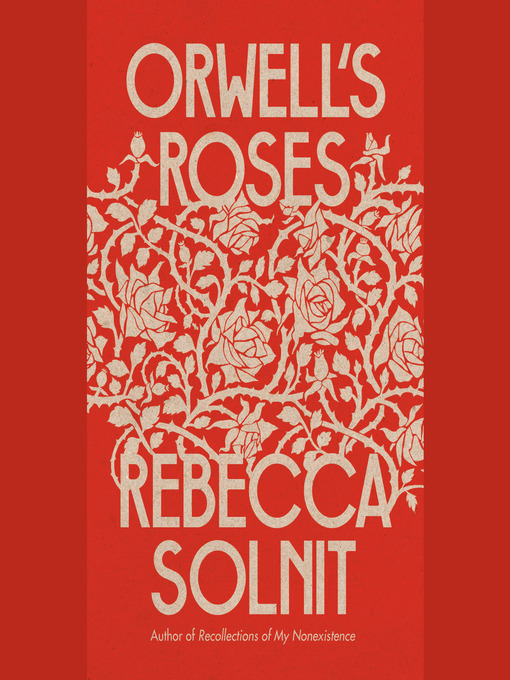 Orwell's roses
Format:

OverDrive MP3 Audiobook

2021

2021

OverDrive Listen

Availability:

Unavailable

0 of 2 copies
11 people on waitlist
Summary
"A fresh take on George Orwell as a far more nature-loving figure than is often portrayed, and a dazzlingly rich meditation on roses, gardens, and the value and use of beauty and pleasure in the face of brutality and horror. "In the spring of 1936 a man planted roses." That man was George Orwell, shortly before he went off to fight against fascism in Spain. Today, those rosebushes are still thriving. This is the starting point for Rebecca Solnit's new book, which presents another side of Orwell, a neglected arcadian Orwell who took enormous pleasure in the natural world and found great meaning and value in it. Orwell's planting of the roses is an axle from which Solnit's chapters radiate out like spokes as she brilliantly explores its various contexts, perspectives, and meanings, following the contours of Orwell's life and tracking how deeply enmeshed the love of nature is in all his writing. Journeying to the cottage in Wallingford where Orwell lived in 1936, she examines his desire to be agrarian and settled, how gardening restored him, and how planting something can be an act of fidelity and faith. Probing at the beauty and meaning of roses, she draws in the revolutionary photography and politics of Tina Modotti and makes a clandestine visit to a Columbian rose factory, where 80% of America's roses for sale are grown. She tracks the history of gardening, showing how the desire to garden is culturally determined and often rooted in class, recounts the immense battles over breeding and genetics in Russia during Stalin's time, and probes into the colonialist roots of Orwell's forebears, who worked in opium production in India and profiteered from sugar and slavery in Jamaica. Solnit shows how these points of intersection illuminate Orwell's work, and how that illumination shines forth on larger questions about beauty, pleasure, meaning, relationship, and hope. Her book establishes that "Orwellian" could stand for something more than ominous, corrupt, and

Published Reviews
Booklist Review:
"George Orwell's essays helped light Solnit's (Recollections of My Nonexistence, 2020) way as a narrative nonfiction writer of conscience and cued her to his little-recognized passion for trees and gardening. Her pilgrimage to Orwell's cottage, where, in 1936, he planted fruit trees and roses, is one of many in a "series of forays" she chronicles and reflects on in this avidly researched, richly elucidating book of biographical revelations and evocative discoveries. Solnit delves into the natural history of the rose, its symbolism, and its current industrialized and cruelly exploitative cultivation. Noting how often Orwell's novel Nineteen-Eighty-Four is cited for its invaluable insights into the grave dangers of disinformation and revisionist history, Solnit traces the evolution of Orwell's astute perception of the consequences of economic and political tyranny. She also illuminates his prescient call-out of the planetary calamity of coal. As she tracks the ways imperialism has shaped horticulture, she dissects Stalin's obsession with lemon trees and ruthless suppression of science, a painfully relevant theme during the COVID-19 pandemic and the climate-change crisis. Orwell will always be relied on for his astute understanding of the threat of totalitarianism and its malignant lies; Solnit also ensures that we'll value Orwell's profound understanding of how love, pleasure, and awe for nature can be powerful forms of resistance."
From Booklist, Copyright (c) American Library Association. Used with permission.
Publisher's Weekly Review:
"Solnit carefully charts the life of George Orwell (1903--1950) by focusing on his love of roses and all things natural in this brilliant survey (after Recollections of My Nonexistence). Her study of the "sublimely gifted essayist" and novelist is not a biography, she notes, rather "a series of forays from one starting point, that gesture whereby one writer planted several roses." After reading an essay in which Orwell expounds upon the power of trees, Solnit begins to see his writing differently, spotting more "enjoyment" in his work. She follows Orwell's "episodic" life from his birth in northern India to coal mines in England, to Spain, and through his marriages, but begins with and returns often to his midlife in Wallington, England, where he rented a cottage in 1936 and planted his roses. She also traces her own interests that mirror his, such as climate, class, and politics--Orwell wrote "about toads and spring but also about principles and values and arguing with an orthodoxy." A disquisition on the suffragists' song "Bread and Roses" and a look at the rose trade in Bogotá happen along the way, but Solnit never loses sight of Orwell and his relationship to nature: "Outside my work the thing I care most about is gardening," he wrote. Fans of Marta MacDowell's biographies of gardening writers will appreciate this lyrical exploration. (Oct.)"
(c) Copyright PWxyz, LLC. All rights reserved
Additional Information