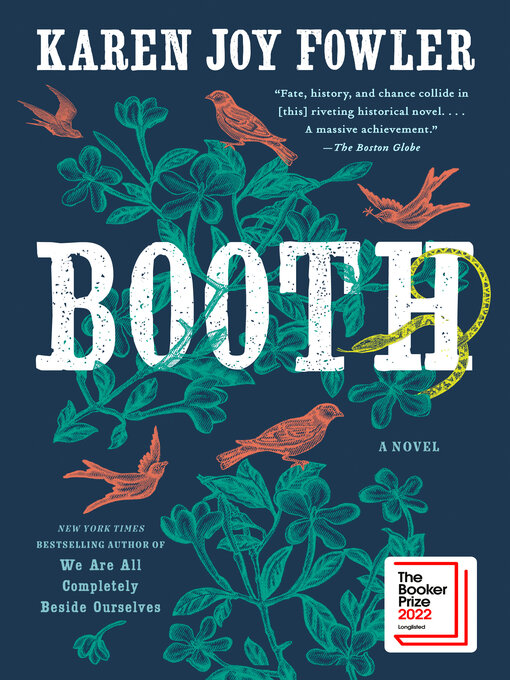 Booth a novel
Format:

Kindle Book

2022

2022

Adobe EPUB ebook

OverDrive Read

Availability:

Unavailable

0 of 6 copies
16 people on waitlist
Summary
"From the Man Booker finalist and bestselling author of We Are All Completely Beside Ourselves comes an epic novel about the family behind one of the most infamous figures in American history: John Wilkes Booth"--

Published Reviews
Booklist Review:
"John Wilkes Booth needs no introduction, but this isn't really his story. Instead, it is his family, most especially his siblings, who takes center stage. There is "poor" Rosalie, steady and ignored; Junius, a lesser talent than the father for whom he was named; Edwin, introspective and damaged yet brilliant when performing; Asia, beautiful and self-absorbed. All are shaped by the downstream effect of an alcoholic, mercurial, often-absent father and a mother overburdened to the point of collapse. Scandal, loss, and straightened finances plague the family, but worse is yet to come. Interspersed with the lives of the Booths are cherry-picked Lincoln quotations along with a didactic political history meant to relate events to current politics. All builds towards "Johnny's" terrible act and its consequences for his siblings, the unjust suffering of guilt by association. In her first historical novel in a decade, the best-selling Fowler (Black Glass, 2015) presents an omniscient, bird's-eye view of these lives, along with a nod to what could be apocryphal. The result is an engrossing portrayal of a nineteenth-century family living through the U.S.' most turbulent era."
From Booklist, Copyright (c) American Library Association. Used with permission.
Publisher's Weekly Review:
"The Booth in the title of Booker-shortlisted Fowler's razor-sharp latest (after We Are All Completely Beside Ourselves) is John Wilkes Booth, Abraham Lincoln's assassin. The author approaches "Johnny" obliquely, through his family circle in Maryland. Booth's father, Junius Brutus Booth, is a Shakespearean actor whose masterly Richard III and "towering genius" are offset by episodes of "mad freaks." (He's also a drunken failure of a father.) Cycles of depression triggered by Junius's endless indiscretions and prolonged absences define Booth's mother. Three siblings in this theatrical family are central: eldest sister Rosalie is "painfully shy" and has scoliosis; brother Edwin, like Junius a "star" actor, is prone to drink; and beautiful sister Asia is "strong and stormy," "ice and iron." Others, such as the Halls--a Black family, some of whom are free and others enslaved--also play parts. All illuminate the depressingly bizarre rearing of Johnny and the disgruntled, attention-seeking actor he becomes. As Congress passes the 13th amendment to abolish slavery and General Lee surrenders, Booth's acting career falters and his Southern sympathies rise, building toward the fateful night that will forever define him and his family. Fowler sets the stage in remarkable prose, and in her account of the Booth family's move from rural Maryland to Baltimore in 1846 ("Instead of frogs, choruses of drunks sing on the street after dark. Instead of birdcalls, factory whistles"), she subtly conveys the depth of her characters, noting that Johnny, at seven, takes on the "city name" Wilkes. Throughout, the nuanced plot is both historically rigorous and richly imagined. This is a winner. (Mar.)"
(c) Copyright PWxyz, LLC. All rights reserved
Additional Information