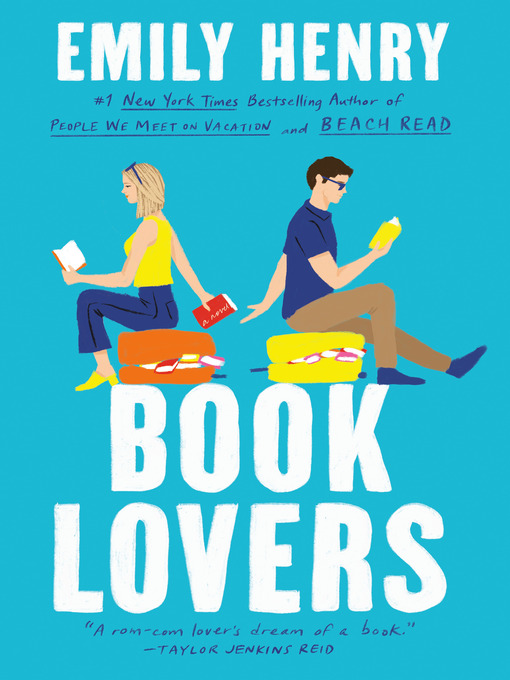 Book lovers
Format:

Kindle Book

2022

2022

Adobe EPUB ebook

OverDrive Read

Availability:

Unavailable

0 of 165 copies
121 people on waitlist
Summary
"A by-the-book literary agent must decide if happily ever after is worth changing her whole life for in this insightful, delightful new novel from the #1 New York Times bestselling author of Beach Read and People We Meet on Vacation. Nora Stephens life is books-she's read them all-and she is not that type of heroine. Not the plucky one, not the laidback dream girl, and especially not the sweetheart. In fact, the only people Nora is a heroine for are her clients, for whom she lands enormous deals as a cutthroat literary agent, and her beloved little sister Libby. Which is why she agrees to go to Sunshine Falls, North Carolina for the month of August when Libby begs her for a sisters' trip away-with visions of a small town transformation for Nora who she's convinced needs to become the heroine in her own story. But instead of picnics in meadows, or run-ins with a handsome country doctor or bulging-forearmed bartender, Nora keeps bumping into Charlie Lastra, a bookish brooding editor from back in the city. It would be a meet-cute if not for the fact that they've met many times and it's never been cute. If Nora knows she's not an ideal heroine, Charlie knows he's nobody's hero, but as they are thrown together again and again-in a series of coincidences no editor worth their salt would allow-what they discover might just unravel the carefully crafted stories they've written about themselves"--

Published Reviews
Booklist Review:
"Henry's latest is a witty, rapidly unfolding novel set in New York's publishing world, where literary agent Nora Stephens is known as a shark. Scary, precise, and organized, she works tirelessly. She is someone people can count on, whether they're her clients, her colleagues, or her sister, with whom she's spending August in Sunshine Falls, North Carolina. Charlie Lastra is a talented editor with a reputation for brusqueness, broodiness, and acerbic editorial comments. He craves complete honesty at all times. While wanting to understand how things work in the world, he has learned not to trust it. They meet over Nora's client's book, which Charlie badly wants to edit after rejecting her former book. He, too, is in Sunshine Falls, and as they work together, their initial hostility sparks romance. They are both true big-city workaholics who appreciate each other's ethics and brilliance, but both struggle with insecurities and the sense that they will always be watching life from the outside. Like Henry's two previous runaway bestsellers, People We Meet on Vacation (2021) and Beach Read (2020), Book Lovers is poised to capture readers' hearts and minds."
From Booklist, Copyright (c) American Library Association. Used with permission.
Publisher's Weekly Review:
"A summer trip spurs unexpected self-discovery in bestseller Henry's latest rom-com (after People We Meet on Vacation), a moving examination of love, belonging, and family. Since childhood, literary agent Nora Stephens has structured her life around taking care of her sister, Libby, four years her junior, so when an exhausted and--Nora fears--increasingly distant Libby suggests a monthlong trip to small-town Sunshine Falls, N.C., Nora eagerly agrees. As she wrestles with Libby's irritability and strives to make her happy while trying to find her own equilibrium--including making a surprising connection with her professional nemesis, editor Charlie Lastra, a Sunshine Falls native--Nora must turn fresh eyes on old problems. Meanwhile, things heat up between Charlie and Nora, but the demands of their professional lives may keep them apart. Henry expertly captures the complexities of close but unbalanced familial relationships along with the distance between the dreams of youth and the realities of adulthood. As usual, her sharp eye for detail in establishing setting and creating empathetic characters engages the reader, and Nora's well-shaded emotional struggles complement the steamy enemies-to-lovers plot and lovely scenery. This introspective romance is sure to please. Agent: Taylor Haggerty, Root Literary. (May)"
(c) Copyright PWxyz, LLC. All rights reserved
Additional Information