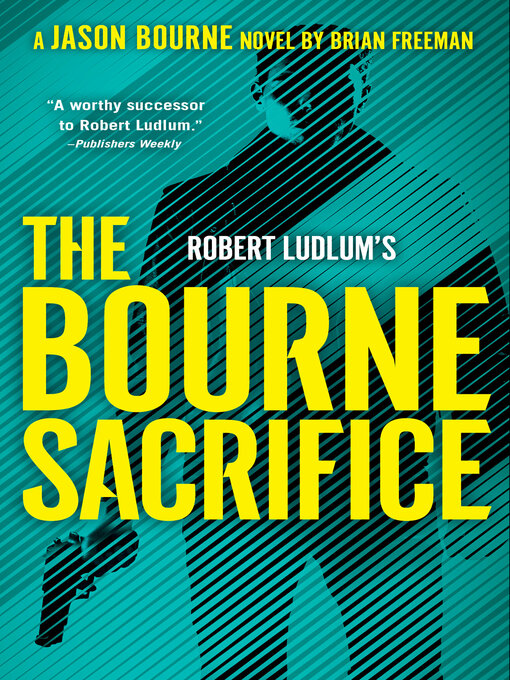 Robert Ludlum's the bourne sacrifice
Format:

Kindle Book

2022

2022

Adobe EPUB ebook

OverDrive Read

Availability:

Available from OverDrive

1 of 3 copies
2 people on waitlist
Summary
Jason Bourne has faced many killers before, but none as dangerous or as cruelly inventive as the assassin who calls himself Lennon. Bourne believes the assassin has a new employer called the Pyramid. The only clue to the group's agenda is a young German woman murdered in Washington on her way to a covert meeting. But the woman's entire identity turns out to be a lie, and news reports of her death have been strangely twisted and suppressed. Bourne will need to use every bit of his tradecraft and his genius for mayhem to expose this web of lies and murder.

Published Reviews
Booklist Review:
"Jason Bourne, the former assassin for the American government who lost his memory after nearly being killed, has spent the last year searching Europe for the assassin known as Lennon (last seen in The Bourne Treachery, 2021). After a near miss in Iceland, Bourne is determined to catch up with Lennon in the U.S. But finding the ruthless killer is only one element in Freeman's third Bourne novel. Is Lennon working for a shadowy organization called The Pyramid, and, if so, why has the group sent him to America? In 2020's The Bourne Evolution, Freeman rebooted Robert Ludlum's series, giving the character a new time line and restoring some of the desperation to recover his identity, an early element that was less prominent in Ludlum's later Bourne novels and in those by Eric Van Lustbader. Fans of Freeman's first two Bourne novels will be thrilled with this one, which, in addition to Lennon, also brings back journalist Abby Laurent, who played an important role in Bourne Evolution and is even more in the mix here. An exciting, satisfying thriller."
From Booklist, Copyright (c) American Library Association. Used with permission.
Publisher's Weekly Review:
"Thriller Award winner Freeman's assured third contribution to the Bourne franchise (after 2021's The Bourne Treachery) finds Jason Bourne on the trail of Vladimir Putin's favorite assassin, the man known as Lennon. Besides wanting to take down the killer for his many assassinations, Bourne wants to question him because he has the keys to Bourne's forgotten past. Bourne finally corners Lennon in a cabin in Iceland, but he escapes a fiery death when his assistant, codenamed Yoko, arrives in a helicopter and whisks him away. Meanwhile, Bourne's old girlfriend, journalist Abbey Laurent, who hasn't seen him in two years, is looking into the death of a mysterious German woman in Washington, D.C. Bourne's hunt and Abbey's investigation lead them toward each other--and to the Pyramid, a secret organization that will stop at nothing to achieve its nefarious goals. Never mind the familiar plot. Exciting action scenes, the untangling of the Pyramid mystery, Bourne's fighting skills, and the enduring conundrum of his lost past keep the pages turning. Freeman is a worthy successor to Robert Ludlum. Agent: Sloan Harris, ICM Partners. (July)"
(c) Copyright PWxyz, LLC. All rights reserved
Additional Information