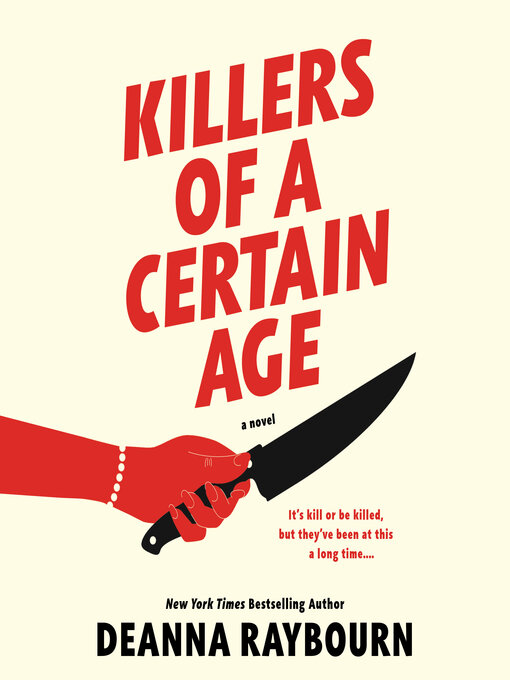 Killers of a certain age
Format:

OverDrive MP3 Audiobook

2022

2022

OverDrive Listen

Availability:

Unavailable

0 of 16 copies
104 people on waitlist
Summary
Billie, Mary Alice, Helen, and Natalie have worked for the Museum, an elite network of assassins, for forty years. Now their talents are considered old-school and no one appreciates what they have to offer in an age that relies more on technology than people skills. When the foursome is sent on an all-expenses paid vacation to mark their retirement, they are targeted by one of their own.

Published Reviews
Booklist Review:
"Imagine if the Golden Girls were trained as elite assassins and you'll have some idea of the delights and thrills filling the pages of Raybourn's latest. In 1979, rebellious Billie, proper Helen, practical Mary Alice, and flirtatious Natalie are the first women recruited to join a top-secret, nongovernmental organization known as the Museum, which specializes in hunting down Nazis, sex traffickers, arms dealers, and other bad guys. Now in their sixties, the women are enjoying a retirement cruise. When Billie ducks into a fridge to cool off during a hot flash, she spots a young colleague in disguise, and the women soon uncover a bomb in his room, realizing that their retirement gift is actually a death sentence. But why, after 40 years of loyally serving the Museum, are they now targets? Raybourn has crafted a brilliant crime novel, with wit, intrigue, and heart, in which these bold, aging agents travel through catacombs and luxury spas and keep in contact via menopause apps. Her descriptions about aging are both funny (comparing saggy boobs to melted ice cream) and bitter, as the women recognize that some skills don't come as readily as they once did. But, most of all, this is a fun, exciting romp that celebrates the everlasting bonds of sisterhood."
From Booklist, Copyright (c) American Library Association. Used with permission.
Publisher's Weekly Review:
"Edgar finalist Raybourn (the Speedwell series) makes a dazzling excursion out of the Victorian era with this uproarious contemporary thriller. Billie, Mary Alice, Natalie, and Helen have been a cozy quartet of "avenging goddesses" for more than 40 years, one of the "most elite assassin squads on earth," recruited in late 1978 by an "extra governmental" organization called the Museum. Soon after they're forced to go on an all-expenses-paid retirement cruise in the Caribbean, they discover they've apparently been targeted for death by the Museum board. They immediately go into investigative overdrive, relying on their expert training and experiences to uncover the means and motives behind their potential demise. Flashbacks to several of their high-profile cases, including a Zanzibar hit on an aging baroness that comes back to haunt Billie, keep the reader guessing. Colorful regional details and vividly portrayed secondary characters flesh out this rollicking tale. Fans of Helen Tursten and Richard Osman will relish watching these badass women in their 60s ("no one notices you unless you want them to," Billie observes) swing into action. Raybourn has outdone herself. Agent: Pamela Hopkins, Hopkins Literary Assoc. (Sept.)"
(c) Copyright PWxyz, LLC. All rights reserved
Additional Information