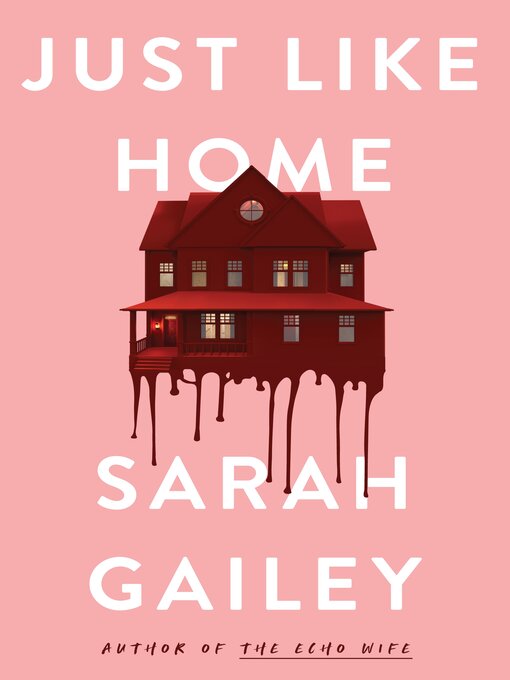 Just like home
Format:

Kindle Book

2022

2022

Adobe EPUB ebook

OverDrive Read

Availability:

Unavailable

0 of 3 copies
19 people on waitlist
Summary
"Just Like Home is a darkly gothic thriller from nationally bestselling author Sarah Gailey, perfect for fans of Netflix's The Haunting of Hill House as well as HBO's true crime masterpiece I'll Be Gone in the Dark. "Come home." Vera's mother called and Vera obeyed. In spite of their long estrangement, in spite of the memories - she's come back to the home of a serial killer. Back to face the love she had for her father and the bodies he buried there, beneath the house he'd built for his family. Coming home is hard enough for Vera, and to make things worse, she and her mother aren't alone. A parasitic artist has moved into the guest house out back and is slowly stripping Vera's childhood for spare parts. He insists that he isn't the one leaving notes around the house in her father's handwriting... but who else could it possibly be? There are secrets yet undiscovered in the foundations of the notorious Crowder House. Vera must face them and find out for herself just how deep the rot goes"--

Published Reviews
Booklist Review:
"Vera's mother disowned her long ago, but she's headed home anyway to take care of the place before her mother dies. Home, to the old house that her father built with his own hands--her notorious, hated, much-written-about serial-killer father, whom Vera loved, dearly, whose approval she longed for, and who she ultimately betrayed. As Vera cleans out closets and cabinets, she deals with her cruel, sharp-tongued mother, as well as with one of a long line of parasitic artists taking up residence in the guesthouse in order to get "inspired" by her father's legacy. Vera begins to wake up with grease in her throat and something lurking under her rickety childhood bed. Someone is messing with her. But who? Vera's childhood splinters in her hands as she pries back the floorboards to uncover the mysteries still lurking in the house's woodwork. Gailey's newest gothic novel is painfully suspenseful and richly dark, their rushing, intoxicating writing in peak form. Delightfully creepy and heartbreakingly tragic, Just Like Home is equal parts raw terror of a dark childhood bedroom, creeping revelations of a true-crime podcast, and searing hurt of resentment within a family. It's a must-read for all gothic horror fans."
From Booklist, Copyright (c) American Library Association. Used with permission.
Publisher's Weekly Review:
"Vera Crowder, the protagonist of this superior novel of psychological suspense from Gailey (The Echo Wife), returns to her childhood home, Crowder House, after 12 years to reunite with her dying mother, a fraught visit that reawakens dark memories. It gradually emerges that Vera's father, who frequently reassured her as a child that there were neither monsters nor murderers under her bed, and told her their basement was off-limits, was himself a murderer. (Bodies were found buried in the basement.) Years after her father's arrest, Vera still believes the house has secrets to reveal, a belief supported by the chance discoveries of fragments from his journal. Suggestive prose ("The stairs that led from the entryway to the second level of the house always seemed to have too many shadows") enhances the twisty plot as Vera tries to better understand the killings her father was accused of. The counterintuitive choice to have flashbacks recounted in present tense, while using past tense for present-day events, along with ominous foreshadowing ("Three years from now, when there are policemen at the door, she will feel afraid") helps to create an unsettling atmosphere. Minette Walters fans will be captivated. (July)"
(c) Copyright PWxyz, LLC. All rights reserved
Additional Information