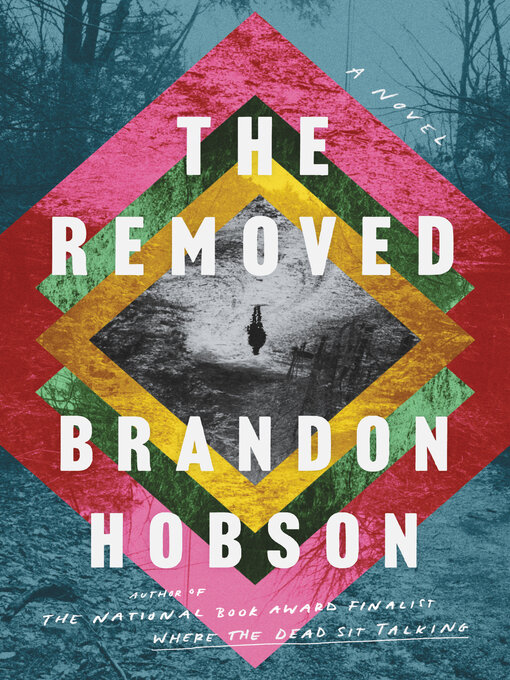 The Removed
Format:

Kindle Book

2021

Adobe EPUB ebook

OverDrive Read

Availability:

Unavailable

0 of 10 copies
30 people on waitlist
Summary
"A haunted work, full of voices old and new. It is about a family's reckoning with loss and injustice, and it is about a people trying for the same. The journey of this family's way home is full—in equal measure—of melancholy and love."—Tommy Orange, author of There ThereA RECOMMENDED BOOK FROMUSA Today * O, the Oprah Magazine * Entertainment Weekly * Harper's Bazaar * Buzzfeed * Washington Post * Elle * Parade * San Francisco Chronicle * Good Housekeeping * Vulture * Refinery29 * AARP * Kirkus * PopSugar * Alma * Woman's Day * Chicago Review of Books * The Millions * Biblio Lifestyle * Library Journal * Publishers Weekly * LitHub Steeped in Cherokee myths and history, a novel about a fractured family reckoning with the tragic death of their son long ago—from National Book Award finalist Brandon HobsonIn the fifteen years since their teenage son, Ray-Ray, was killed in a police shooting, the Echota family has been suspended in private grief. The mother, Maria, increasingly struggles to manage the onset of Alzheimer's in her husband, Ernest. Their adult daughter, Sonja, leads a life of solitude, punctuated only by spells of dizzying romantic obsession. And their son, Edgar, fled home long ago, turning to drugs to mute his feelings of alienation.With the family's annual bonfire approaching—an occasion marking both the Cherokee National Holiday and Ray-Ray's death, and a rare moment in which they openly talk about his memory—Maria attempts to call the family together from their physical and emotional distances once more. But as the bonfire draws near, each of them feels a strange blurring of the boundary between normal life and the spirit world. Maria and Ernest take in a foster child who seems to almost miraculously keep Ernest's mental fog at bay. Sonja becomes dangerously fixated on a man named Vin, despite—or perhaps because of—his ties to tragedy in her lifetime and lifetimes before. And in the wake of a suicide attempt, Edgar finds himself in the mysterious Darkening Land: a place between the living and the dead, where old atrocities echo. Drawing deeply on Cherokee folklore, The Removed seamlessly blends the real and spiritual to excavate the deep reverberations of trauma—a meditation on family, grief, home, and the power of stories on both a personal and ancestral level."The Removed is a marvel. With a few sly gestures, a humble array of piercingly real characters and an apparently effortless swing into the dire dreamlife, Brandon Hobson delivers an act of regeneration and solace. You won't forget it." —Jonathan Lethem, author of The Feral Detective

Published Reviews
Booklist Review:
"Ray-Ray was 15 years old when he was killed by a cop at a mall fight. The officer had heard a gunshot and fired at the Cherokee Indian in the group involved, although a white kid had been the one who fired the shot. On every anniversary of his death, Ray-Ray's parents, Maria and Ernest, hold a bonfire to remember him. This year, Ray-Ray's younger brother, Edgar, might not make it. His family hasn't seen Edgar since they staged an intervention for his drug use. While Edgar goes off to stay with an old friend in a nightmare town called only the Darkening Land, his sister, Sonja, starts a romance with a younger man, and Maria and Ernest, who is struggling with dementia, take in a foster kid named Wyatt, who reminds them of their slain son, bringing back Ernest's memories in a seeming miracle. Their Cherokee ancestor Tsala connects the family history with the Trail of Tears, the forced relocation of Native Americans in the nineteenth century. With elegiac grace, The Removed tells of one family's struggles to find wholeness after tragedy."
From Booklist, Copyright (c) American Library Association. Used with permission.
Publisher's Weekly Review:
"National Book Award--finalist Hobson (Where the Dead Sit Talking) depicts a Cherokee family's grief and resilience 15 years after a police officer unjustly kills one of the family's three children in Quah, Okla. Maria Echota, a retired social worker in her 70s, battles depression and watches as her adult children struggle and her husband, Ernest, develops Alzheimer's. Their oldest, 31-year-old Sonja, works at Quah's public library, and they fear she's taken an unhealthy fixation on Vin Hoff, a younger white man. Edgar, the youngest, lives in Albuquerque and is addicted to meth. The family's plan to reunite for an annual bonfire to celebrate Cherokee independence in Quah--an event always shaped for them by memories of Ray Ray, who was killed the same day at 15 after a cop wrongly believed Ray Ray had shot a gun--are complicated when Edgar won't answer the phone. Instead, he's taken a train to the mysterious Darkening Land, where the spirits of David Foster Wallace and Jimi Hendrix appear, leaving the reader to wonder if Edgar has died as well. There's hope, though, as Maria and Ernest's foster child, Wyatt, stimulates Ernest's decaying mind, reminding him of Ray-Ray--and Sonja's obsession with Vin turns out to be part of a wonderfully twisted plan to heal her grief. The alternating first-person narration is punctuated by the powerful voice of Tsala, a family ancestor who died before he was forced onto the Trail of Tears. Hobson is a master storyteller and illustrates in gently poetic prose how for many Native Americans the line between this world and the next isn't so sharp. This will stay long in readers' minds. (Feb.)"
(c) Copyright PWxyz, LLC. All rights reserved
Additional Information