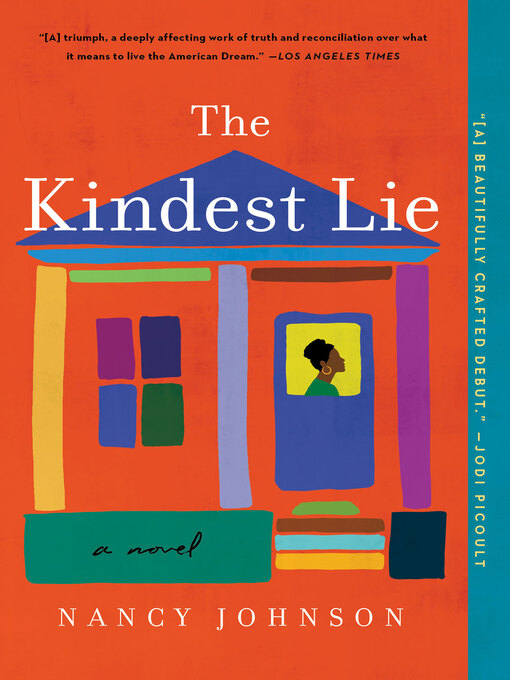 The Kindest Lie
Format:

Kindle Book

2021

Adobe EPUB ebook

OverDrive Read

Availability:

Unavailable

0 of 16 copies
60 people on waitlist
Summary
Named a Most Anticipated book by O Magazine * GMA * Elle * Marie Claire * Good Housekeeping * NBC News * Shondaland * Chicago Tribune * Woman's Day * Refinery 29 * Bustle * The Millions * New York Post * Parade * Hello! Magazine * PopSugar * and more!"The Kindest Lie is a deep dive into how we define family, what it means to be a mother, and what it means to grow up Black...beautifully crafted." —JODI PICOULT"A fantastic story...well-written, timely, and oh-so-memorable."—Good Morning America"The Kindest Lie is a layered, complex exploration of race and class." —The Washington PostA promise could betray you.It's 2008, and the inauguration of President Barack Obama ushers in a new kind of hope. In Chicago, Ruth Tuttle, an Ivy-League educated Black engineer, is married to a kind and successful man. He's eager to start a family, but Ruth is uncertain. She has never gotten over the baby she gave birth to—and was forced to leave behind—when she was a teenager. She had promised her family she'd never look back, but Ruth knows that to move forward, she must make peace with the past.Returning home, Ruth discovers the Indiana factory town of her youth is plagued by unemployment, racism, and despair. As she begins digging into the past, she unexpectedly befriends Midnight, a young white boy who is also adrift and looking for connection. Just as Ruth is about to uncover a burning secret her family desperately wants to keep hidden, a traumatic incident strains the town's already searing racial tensions, sending Ruth and Midnight on a collision course that could upend both their lives.Powerful and revealing, The Kindest Lie captures the heartbreaking divide between Black and white communities and offers both an unflinching view of motherhood in contemporary America and the never-ending quest to achieve the American Dream.

Published Reviews
Booklist Review:
"Generational secrets, class divides, motherhood, and American life on the edge of political and economic change are all examined in Johnson's engaging debut. Ruth Tuttle and her husband, Xavier, are young Black professionals living in Chicago just after the election of President Barack Obama in 2008. When Xavier expresses his desire to start a family, Ruth, an engineer, confesses that she had a child when she was still in high school. Her revelation puts a strain on their marriage, and Ruth realizes that she must come to terms with her tumultuous past before moving forward. After avoiding her small Indiana hometown for years, Ruth returns to her grandmother's house, hoping to discover what happened to her son. As she reconnects with her grandmother, brother, and old friends and meets a lonely young boy nicknamed Midnight, what she finds is a town deeply impacted by the Great Recession, increasing racial tensions, and a lifetime of secrets that will change her future. Through well-developed characters, Johnson provides a realistic portrayal of middle America in the tumultuous era of economic collapse.HIGH-DEMAND BACKSTORY: Anticipation runs high, supported by a sizable print run, for former television journalist Johnson's first novel."
From Booklist, Copyright (c) American Library Association. Used with permission.
Publisher's Weekly Review:
"Johnson's sharp debut takes a deep dive into the life of a Black Chicago woman after the 2008 presidential election. Ruth Tuttle, 29, feels like she's made it: she's married to a Pepsi exec and thriving in her own career as a chemical engineer. However, her marriage hits a rocky spot when, during a talk with her husband, Xavier, about having children, she reveals she had a son at age 17. Her grandmother, Mama, who raised her, encouraged Ruth to give up her son to fulfill her dreams, and now, after Ruth asks for help in finding him, Mama tells Ruth not to go digging up the past. Still, Ruth returns to Ganton, determined to find her son before she starts a family with Xavier. With the auto plant that employed her brother, Eli, and her grandfather now closed, the town is reeling. Here, Johnson's lens widens to address the increasing racial divide following Obama's election, and she dramatizes it through a friendship forged between Ruth and an 11-year-old white boy named Midnight, whose abusive father also lost his job. Midnight is friends with a Black boy named Corey Cunningham, who Ruth deduces is her son after Eli defends him from a racially motivated attack by a group of white boys. As Ruth learns more about what's happened to her town and reckons with what she left behind, powerful insights emerge on the plurality of Black American experience and the divisions between rural and urban life, and the wealthy and the working class. Johnson's clear-eyed saga hits hard. (Feb.)"
(c) Copyright PWxyz, LLC. All rights reserved
Additional Information