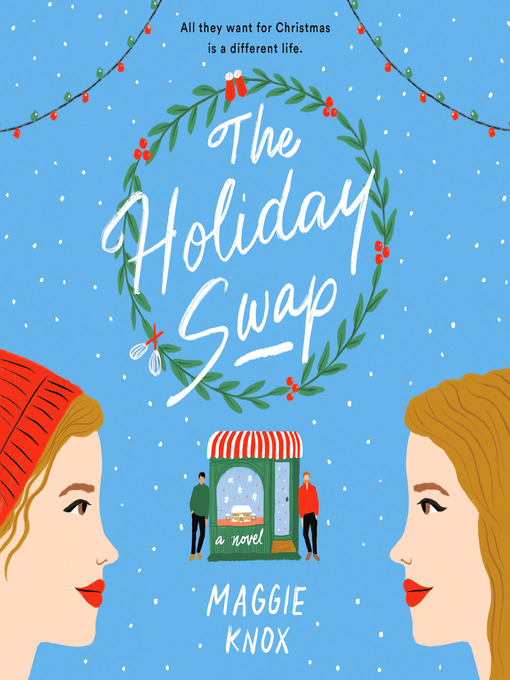 The Holiday Swap
Format:

OverDrive MP3 Audiobook

2021

OverDrive Listen

Availability:

Available from OverDrive

3 of 3 copies
1 person on waitlist
Summary
NATIONAL BESTSELLER"An utterly adorable, pitch-perfect romance with just the right amount of Christmas cheer. The Holiday Swap is a pure delight, I couldn't stop from smiling."u2014 Taylor Jenkins Reid, NYT bestselling author of Daisy Jones & The SixA feel-good, holiday-themed romantic comedy about identical twins who switch lives in the days leading up to Christmas. All they want for Christmas is a different life. When chef Charlie Goodwin gets hit on the head on the L.A. set of her reality baking show, she loses a lot more than consciousness; she also loses her ability to taste and smellu2014both critical to her success as show judge. Meanwhile, Charlie's identical twin, Cass, is frantically trying to hold her own life together back in their quaint mountain hometown while running the family's bustling bakery and dealing with her ex, who won't get the memo that they're over.With only days until Christmas, a desperate Charlie asks Cass to do something they haven't done since they were kids: switch places. Looking for her own escape from reality, Cass agrees. But temporarily trading lives proves more complicated than they imagined, especially when rugged firefighter Jake Greenman and gorgeous physician assistant Miguel Rodriguez are thrown into the mix. Will the twins' identity swap be a recipe for disaster, or does it have all the right ingredients for getting their lives back on track?

Published Reviews
Publisher's Weekly Review:
"It's double the treats and double the trouble as twins swap holidays and dramas in this delightful yuletide romance from Knox, the pseudonym for writing duo Karma Brown (The 4% Fix) and Marissa Stapley (Lucky). After an accident causes Charlie Godwin to lose her sense of taste and smell, she arranges for her twin, Cass, to take her place in Los Angeles as the cohost of her baking show's Christmas special. Meanwhile, Charlie will replace Cass at her small-town family bakery a few hours away. Cass agrees to wear Charlie's high-heeled city shoes and manage her obnoxious cohost, Austin, if Charlie will deal with Brett, Cass's recent ex who refuses to accept their breakup. The resulting chaos and confusion gets even more complicated when Charlie falls for handsome firefighter Jake and Cass crushes on cute surfer/physician assistant Miguel, who treated Charlie after her accident. But who exactly are the men interested in--the real twin or the stand-in? There's both tenderness and comedy as the sisters rediscover their priorities and sibling bond while hilariously struggling to draw the line between their roles and reality. This light romantic romp is delicious fun, perfect for rom-com fans in need of some Christmas cheer. (Oct.)"
(c) Copyright PWxyz, LLC. All rights reserved
Additional Information