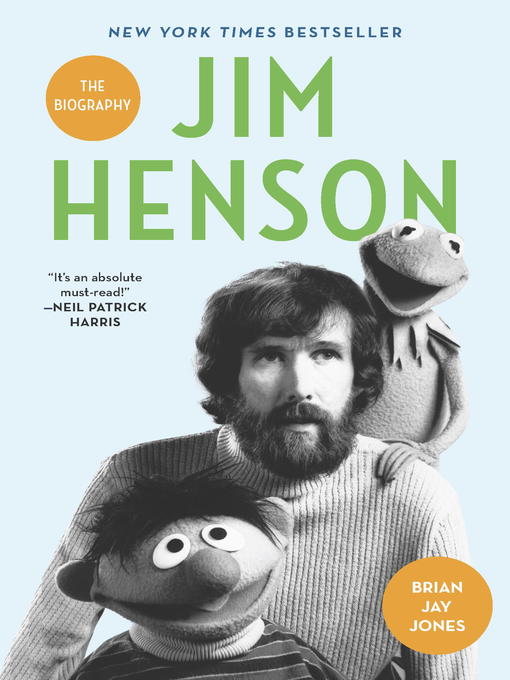 Jim Henson
Format:

Kindle Book

2013

Adobe EPUB ebook

OverDrive Read

Availability:

Unavailable

0 of 1 copy
1 person on waitlist
Summary
NEW YORK TIMES BESTSELLER • For the first time ever—a comprehensive biography of one of the twentieth century's most innovative creative artists: the incomparable, irreplaceable Jim Henson He was a gentle dreamer whose genial bearded visage was recognized around the world, but most people got to know him only through the iconic characters born of his fertile imagination: Kermit the Frog, Bert and Ernie, Miss Piggy, Big Bird. The Muppets made Jim Henson a household name, but they were just part of his remarkable story. This extraordinary biography—written with the generous cooperation of the Henson family—covers the full arc of Henson's all-too-brief life: from his childhood in Leland, Mississippi, through the years of burgeoning fame in America, to the decade of international celebrity that preceded his untimely death at age fifty-three. Drawing on hundreds of hours of new interviews with Henson's family, friends, and closest collaborators, as well as unprecedented access to private family and company archives, Brian Jay Jones explores the creation of the Muppets, Henson's contributions to Sesame Street and Saturday Night Live, and his nearly ten-year campaign to bring The Muppet Show to television. Jones provides the imaginative context for Henson's non-Muppet projects, including the richly imagined worlds of The Dark Crystal and Labyrinth—as well as fascinating misfires like Henson's dream of opening an inflatable psychedelic nightclub. An uncommonly intimate portrait, Jim Henson captures all the facets of this American original: the master craftsman who revolutionized the presentation of puppets on television, the savvy businessman whose dealmaking prowess won him a reputation as "the new Walt Disney," and the creative team leader whose collaborative ethos earned him the undying loyalty of everyone who worked for him. Here also is insight into Henson's intensely private personal life: his Christian Science upbringing, his love of fast cars and expensive art, and his weakness for women. Though an optimist by nature, Henson was haunted by the notion that he would not have time to do all the things he wanted to do in life—a fear that his heartbreaking final hours would prove all too well founded. An up-close look at the charmed life of a legend, Jim Henson gives the full measure to a man whose joyful genius transcended age, language, geography, and culture—and continues to beguile audiences worldwide.NAMED ONE OF THE BEST BOOKS OF THE YEAR BY BOOKPAGE"Jim Henson vibrantly delves into the magnificent man and his Muppet methods: It's an absolute must-read!"—Neil Patrick Harris "An exhaustive work that is never exhausting, a credit both to Jones's brisk style and to Henson's exceptional life."—The New York Times "[A] sweeping portrait that is a mix of humor, mirth and poignancy."—Washington Independent Review of Books"A meticulously researched tome chock-full of gems about the Muppets and the most thorough portrait of their creator ever crafted."—Associated Press

Published Reviews
Booklist Review:
"*Starred Review* It's still a shock 23 years later: the irrepressible creator of the Muppets dead at 53. No one embraced life and creativity with more optimism and enthusiasm than Jim Henson. The first to write a complete biography of Henson, Jones spoke at length with people close to Henson personally and professionally, and his lucid style, wide-angle perspective, and deep immersion in Henson's exuberantly innovative approach to puppets, television, and film make for a thoroughly compelling read. A tall, confident gadget freak from Mississippi and Maryland, with a zany sense of humor, Henson inherited his grandmother's versatile artistic gifts and wanted to work in television the minute he saw it. When a job as a TV puppeteer opened up in 1955, Henson, a freshman in college who knew nothing about puppets, leaped at the chance, teaming up with intrepid artist Jane Nebel. Henson coined the name Muppets; he and Jane married, had five talented children, and worked feverishly, arriving at Sesame Street in 1969, where Kermit, Henson's alter ego, and the rest of the now-classic Muppets began their benevolent, rambunctious rule. Right up until Henson's sudden death in 1990, he and his stellar collaborators, including Frank Oz, continually broke new ground. With verve and insight, Jones illuminates the full scope of Henson's genius, phenomenal productivity, complex private life, zeal to do good, and astronomical influence.--Seaman, Donna Copyright 2010 Booklist"
From Booklist, Copyright (c) American Library Association. Used with permission.
Publisher's Weekly Review:
"The Sesame Street auteur who made the Muppets into a global entertainment and merchandising juggernaut seems almost as winsome as his cute, furry creations in this adulatory biography. Jones (Washington Irving: An American Original) styles Henson as a polite and soft-spoken but charismatic figure whose "faith in his fellow man was unbounded," and whose defining characteristics were "staggering" generosity and an unerring instinct for "playing nice." The worst sins the author can dredge up are affordable penchants for fast cars and gambling and some affairs after Henson separated from his wife. Jones makes a meatier, though overstated, case for Henson as a genius-he soft pedals the fact that Henson's non-Muppet projects usually bombed-who revolutionized puppetry with televisual mise-en-scene; flexible, expressive, close-up-ready faces; and edgy humor that often climaxed in explosions or Muppet cannibalism. The book's most engrossing passages explore the extraordinary technical demands of creating naturalistic puppet spectacles in the age before computer graphics: "performing" a Muppet was an intricate, almost contortionistic dance of two puppeteers crammed into a single sleeve, and one swampy movie scene required Henson to manipulate a banjo-playing Kermit the Frog while sealed in a diving bell. Jones presents a rather bland show-biz saga, but with a fascinating making-of documentary woven in. Photos. Agent: Jonathan Lyons, Lyons Literary. (Sept. 24) (c) Copyright PWxyz, LLC. All rights reserved."
(c) Copyright PWxyz, LLC. All rights reserved
Additional Information