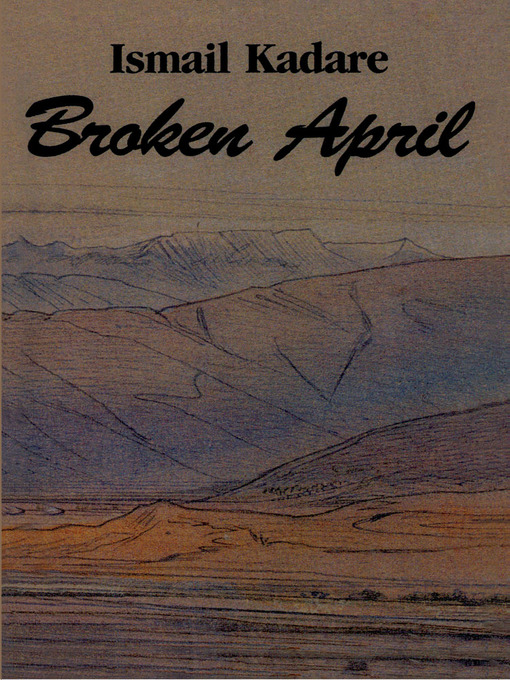 Broken April
Format:

Adobe EPUB ebook

1998

OverDrive Read

Availability:

Available from OverDrive

1 of 1 copy
Summary
Two destinies intersect in Broken April. The first is that of Gjor, a young mountaineer who (much against his will) has just killed a man in order to avenge the death of his older brother, and who expects to be killed himself in keeping with the provisions of the Code that regulates life in the highlands. The second is that of a young couple on their honeymoon who have come to study the age-old customs of the place, including the blood feud.While the story is set in the early twentieth century, life on the high plateaus of Albania takes life back to the Dark Ages. The bloody shirt of the latest victim is hung up by the bereaved for all to see—until the avenger in turn kills his man with a rifle shot. For the young bride, the shock of this unending cycle of obligatory murder is devastating. The horror becomes personified when she catches a glimpse of Gjor as he wanders about the countryside, waiting for the truce of thirty days to end, and life with it. That momentary vision of the hapless murderer provokes in her a violent act of revulsion and contrition. Her life will be marked by it always.

Published Reviews
Publisher's Weekly Review:
"Honeymooners in the mountains of Albania and a young man playing out a blood feud set the stage for this mesmerizing tale. Ordered by his father to obey the mandates of Kanun , or mountain law, Gjorg Berisha kills a a man to avenge the murder of his brother. According to the Kanun , however, it is the right and duty of the slain man's family to murder Gjorg after the bessa , or 30-day truce, expires in mid-April. Gjorg plans to spend the first, ``white'' part of that month as a wanderer, but first must walk to a distant village to pay a ``blood tax'' to the region's ruling family. On the way, he catches the eye of Diana Vorpsis, traveling in the mountains by carriage with her new husband, Bessian. Something about Gjorg, his role in the drama she hears about and his probable death captures Diana's soul. She becomes increasingly withdrawn as she longs to find the young man she has earlier glimpsed, while Gjorg is equally determined to find her and learn of her life before his April turns ``black.'' Thanks to simple prose and engaging details, the Albanian Kadare ( Chronicles in Stone ) makes this story of harsh yet romantic mountain life ring magically true. (Sept.) (c) Copyright PWxyz, LLC. All rights reserved"
(c) Copyright PWxyz, LLC. All rights reserved
Additional Information
Subjects
Romance
Fiction

Publisher

New Amsterdam Books1998



Language

English



ISBN
9781461663263