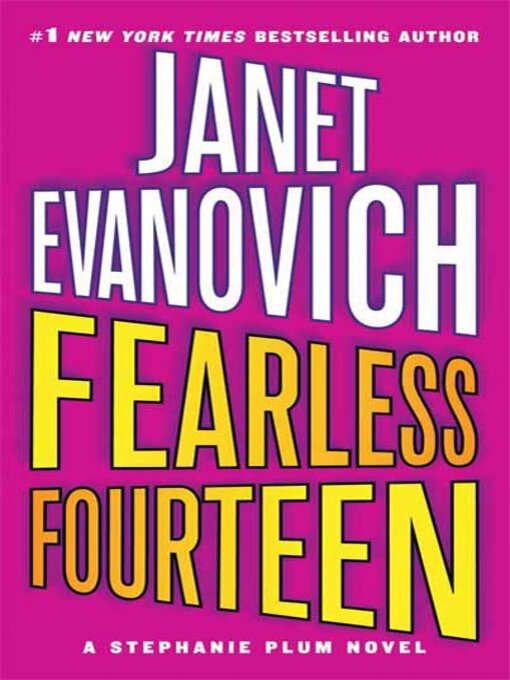 Fearless Fourteen
Format:

Kindle Book

2008

Adobe EPUB ebook

OverDrive Read

Availability:

Unavailable

0 of 2 copies
Summary
Personal vendettas, hidden treasure, and a monkey named Carl will send bounty hunter Stephanie Plum on her most explosive adventure yet.The Crime: Armed robbery to the tune of nine million dollarsDom Rizzi robbed a bank, stashed the money, and did the time. His family couldn't be more proud. He always was the smart one. The Cousin: Joe MorelliJoe Morelli, Dom Rizzi, and Dom's sister, Loretta, are cousins. Morelli is a cop, Rizzi robs banks, and Loretta is a single mother waiting tables at the firehouse. The all-American family.The Complications: Murder, kidnapping, destruction of personal property, and acid refluxLess than a week after Dom's release from prison, Joe Morelli has shadowy figures breaking into his house and dying in his basement. He's getting threatening messages, Loretta is kidnapped, and Dom is missing.The Catastrophe: MoonmanMorelli hires Walter "Mooner" Dunphy, stoner and "inventor" turned crime fighter, to protect his house. Morelli can't afford a lot on a cop's salary, and Mooner will work for potatoes.The Cupcake: Stephanie PlumStephanie and Morelli have a long-standing relationship that involves sex, affection, and driving each other nuts. She's a bond enforcement agent with more luck than talent, and she's involved in this bank-robbery-gone-bad disaster from day one. The Crisis: A favor for RangerSecurity expert Carlos Manoso, street name Ranger, has a job for Stephanie that will involve night work. Morelli has his own ideas regarding Stephanie's evening activities.The Conclusion: Only the fearless should listen to Fearless Fourteen by Janet Evanovich.Thrills, chills, and incontinence may result.

Published Reviews
Booklist Review:
"Our heroine, the irrepressible bounty hunter Stephanie Plum, finds herself watching over a goth teen called Zook, who is heavily into gaming, after his mom can't make bail and disappears (or has been kidnapped). A lot of people think there is stolen money buried in or near Officer Morelli's little house that's Steph's Morelli, the cop who is her number-one boyfriend most of the time, or at least when the entrancing Ranger isn't nearby. The money is the reason behind Zook's mom's disappearance, and it's the tie that binds Evanovich's various plotlines, which carom about endlessly, not always resolving. Questions abound: Are Steph's sidekick, the plus-size Lula, and Ranger's man Tank really engaged? Ranger is working security for a fading but brassy pop star: How does Steph manage to get into and out of her reality show? Can Zook and his sidekicks protect Morelli's house and Stephanie with their homegrown weaponry (think potatoes as missiles)? Where else but Evanovich's fourteenth novel can a line like it's raining money and popsicles! actually make sense? Fans will be delighted, but others, who stumble into the series at this advanced point, may find themselves starved for backstory, so much so that they may need to go all the way back to One for the Money (1994).--DeCandido, GraceAnne A. Copyright 2008 Booklist"
From Booklist, Copyright (c) American Library Association. Used with permission.
Publisher's Weekly Review:
"Lorelei King returns to Trenton, N.J., to continue the misadventures of Stephanie Plum, intermittently successful bounty hunter. King is one of many to voice Janet Evanovich's successful series, but her voice can be heard above the crowd, especially when she's bringing the more colorful characters to life. Her former prostitute Lula can tear down walls with the force of her personality, and King gives professional security specialist (read "mercenary") Ranger the measured tones of one who is always in control. Stephanie spends much of the book blue from a briefcase dye bomb. King's Plum accepts her blueness and responds to the reactions with indignity, ruefulness and eventually resignation. In addition to established favorites, Evanovich has thrown into the mix a 60-ish singer trying to hang onto fame who gives King plenty of scope for her Southern side. Fearless Fourteen becomes peerless fourteen with narrator King at the helm. A St. Martin's hardcover (Reviews, May 19). (June) (c) Copyright PWxyz, LLC. All rights reserved"
(c) Copyright PWxyz, LLC. All rights reserved
Additional Information